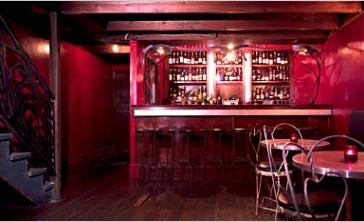 I was just sitting here thinking 'bout how I should head to Dalva sometime soon to see their newly revamped back room.  Immediately following this thought came the realization that I could likely satisfy my  curiosity with  some minimal Googling.
True!  Take it away, wordsmiths at UrbanDaddy!
There lurks a sultry crimson-stained den with leather banquettes. And at the bar's helm is expert cocktail slinger Todd Smith (Beretta, Bourbon & Branch), hand pouring everything from Pappy Van Winkle 15 to Mexican Coke to the bourbon-infused Creole Cocktail—basically, a more artisanal selection than you'll find at the bar out front. And if you bring enough friends, you can spill over into the intimate lair just upstairs.
Such lush language!  Makes me feel like cuddling.
They describe Dalva's Hideout as a "bar within a bar," which is also what M.C. Escher doodles when he gets drunk.  I'm curious to see how two bars can be crammed into such a small space without becoming an unbearable shit show.  Guess I'll have to make a visit after all and slam back some artisanals.