We all had a laugh at "Ecosexuality" a couple of days ago, but as it turns out, it's a real thing and the event in question will be in the Mission at the Lab on Feb 13!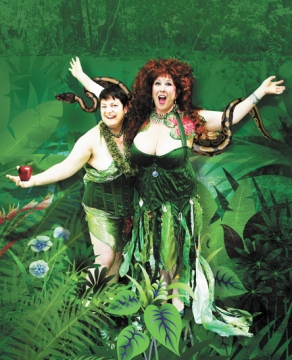 In celebration of Valentine's Day and this new decade pregnant with possibilities for change and transformation, acclaimed performance artist and sex educator Annie Sprinkle and her partner, interdisciplinary artist and activist Elizabeth Stephens, take you on a joyous and inspiring journey as they explore, generate, and celebrate love through art. They will weave their amazing stories, share some dazzling images, and do mini-performances about their experiments in romance, artificial insemination, breast cancer, sex education, performance art weddings, and other love-inspired projects. Currently investigating "ecosexuality," these two dynamic women are mapping a new field of research they coined "sexecology" — the place where sexology and ecology intersect. Perhaps you'll discover that you, too, are an ecosexual.
There will also be an erotic cake contest. Go ahead and fork over the 7-10 dollarónes just so you can sit in the back, cross your arms with a smug half-smile, and act like you are sooo above this. More info at the Lab.
(Hey, if this is your bag, it's none of my business. It's 2010 and we are a kinder, more sensitive Mission Mission.)