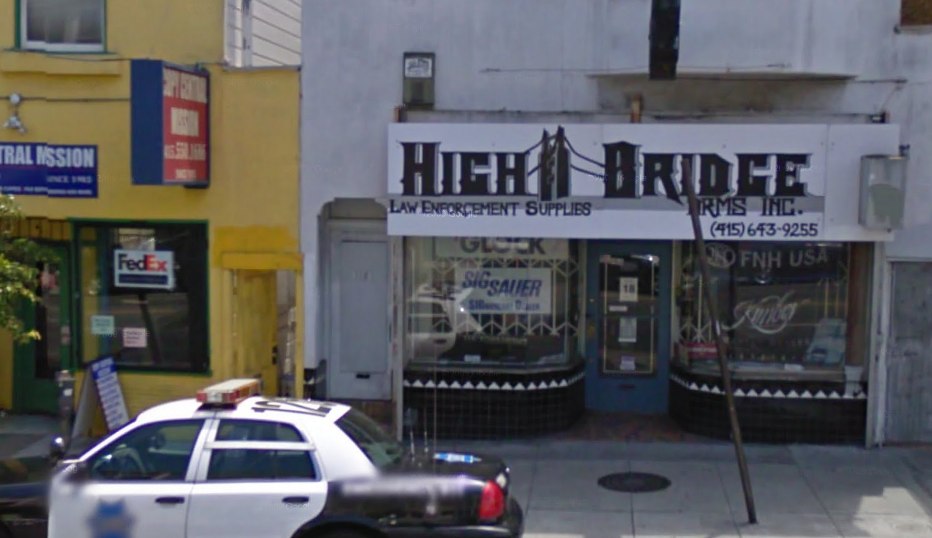 Ian H. shot us an email about this development: High Bridge Arms hopes to re-open by the end of the year making the Mission the home to the only gun store in SF.
While the authors of all those glowing Yelp reviews and consumers of "Law Enforcement Supplies" are totally stoked, the locals aren't so crazy about the idea.
The Northwest Bernal Alliance kicked off this email campaign:
Friends and Neighbors,

Once before we asked that you write letters to SFPD Permit Office telling them to deny High Bridge Arms (3185 Mission Street) a permit to sell guns in our neighborhood. That hearing has been continued 5 times and is now due to be heard SEPTEMBER 8TH.

It's become more urgent now.

There have been several robberies at gunpoint right in our neighborhood and one recent hold up with a gun,  at the Cancun restaurant right next to the High Bridge Arms Gun Store.

We've been successful in causing delays in the permit process by forcing the owner to comply with the SF Planning Code but the hearing is slated for Sept 8th and we believe unless there is a great outcry from the neighborhood, the permit will be granted and once again we'll be home to the ONLY GUN STORE IN ALL OF SAN FRANCISCO.

No matter how you feel about guns, I think you'd agree that they should not be anywhere near our homes and/or schools.
PLEASE WE URGE YOU-  take the time to send an email to the SFPD Permit Office and let them know how you feel.
And if you can call the Sergeant directly   415.553.9550

Attached is a sample letter – re-arrange it – add to it – write your own - but please send it before Sept 7 to:
ATT: Permit Code/Enforcement Sergeant Coggan<William.Coggan@sfgov.org>
CC —Ingleside's Permit/Code Enforcement Officer <William.M.McCarthy@sfgov.org>
CC—-Ingleside's Captain Cassanego<Louis.Cassanego@sfgov.org>
CC—-us so we know it was sent – northwestbernal <northwestbernal@aol.com>;
The hearing takes place 9/8 at 1pm at the SFPD Permit Station on 850 Bryant. More over at Curbed SF.