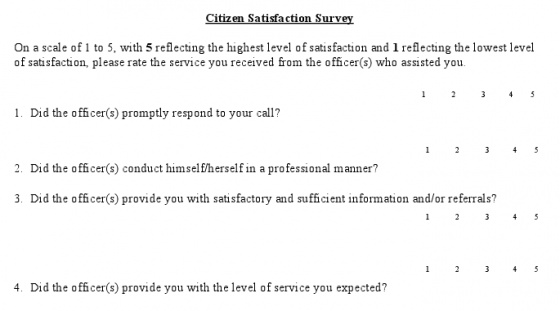 It goes on from there. And it begins:
It would be very helpful and informative if you would take the time to complete the Citizens Satisfaction Surveybelow. Your opinion and comments on the service you received will help identify areas of performance whichneed improvement and those that are satisfactory or superior. Please return your completed survey at yourearliest convenience by mailing to or dropping off at Mission Police Station, 630 Valencia Street, San Francisco,CA 94110. It is our goal to continuously provide the highest level of service possible and to utilize all of theresources at our disposal to prevent crimes and arrest those responsible for committing them.
"All of the resources at our disposal." I guess that includes brave and capable volunteers.
I'll paste the full text after the jump, or you can view it as a Google Doc here.
It would be very helpful and informative if you would take the time to complete the Citizens Satisfaction Surveybelow. Your opinion and comments on the service you received will help identify areas of performance whichneed improvement and those that are satisfactory or superior. Please return your completed survey at yourearliest convenience by mailing to or dropping off at Mission Police Station, 630 Valencia Street, San Francisco,CA 94110. It is our goal to continuously provide the highest level of service possible and to utilize all of theresources at our disposal to prevent crimes and arrest those responsible for committing them. Please feel free tocall me at 558-5455 or E-Mail me at Greg_Corrales@sfgov.org if there is any further assistance we can provideto you.
Citizen Satisfaction Survey
On a scale of 1 to 5, with 5 reflecting the highest level of satisfaction and 1 reflecting the lowest levelof satisfaction, please rate the service you received from the officer(s) who assisted you.
1
2
3
4
5
1. Did the officer(s) promptly respond to your call?
1
2
3
4
5
2. Did the officer(s) conduct himself/herself in a professional manner?
3. Did the officer(s) provide you with satisfactory and sufficient information and/or referrals?
1
2
3
4
5
1
2
3
4
5
4. Did the officer(s) provide you with the level of service you expected?
1
2
3
4
5
5. Were the officer(s) able to resolve the matter for which they were called?
1
2
3
4
5
6. Was the officer courteous and respectful?
7. What was your overall opinion of the service you received as a result of your call for policeservice?
1
2
3
4
5
Comments: ________________________________________________________________________
__________________________________________________________________________________
Sincerely,
Captain Gregory Corrales
_________________________________________________________________________________This form is not for the purpose of accepting citizen complaints. Please direct complaints to theOffice of Citizen Complaints, 25 Van Ness Ave., San Francisco, CA 94102, (415) 241-7711
Commanding OfficerMission Police Station