Update: A clarification.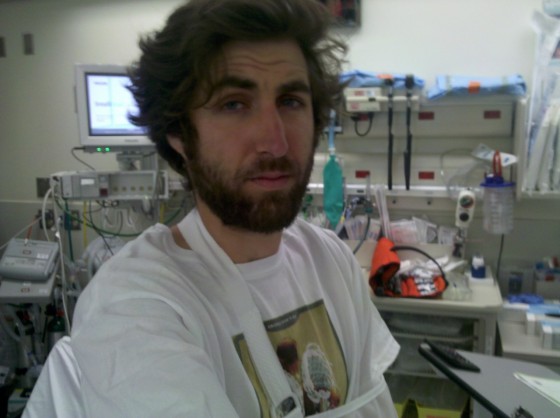 Late last night I got a text from Andrew saying he was in the hospital and in need of a ride home. I was like, "Dude, I'm in NYC, you know I'm in NYC, are you okay?" I waited hours for a reply.
Apparently, Andrew went to hit up that Vietnamese pop-up street food spot he wrote up so delightedly yesterday. He showed up a little late though, and they were nearly out of the snail pho he was so excited over. Somehow — and this I do not condone, so it's all kind of his own fault — he managed to use his blogger cred to cut the line.
Somebody recognized him, the crowd figured out what was going on, and a little brawl ensued. Somebody grabbed his pho, there was pushing and shoving and shouting. And then he found himself falling backward over one of the restaurant's little red stools, and onto another, at just right (wrong) angle. Hence, one severely dislocated shoulder.
The mob relented and apologized profusely and got him a ride to the hospital. He heard at least one person say, "I don't know what came over me." Somebody even tried to give him back his pho, but he'd lost his appetite — probably because of the epic pain.
The worst part is, we were counting on Andrew to come up with this year's Mission Mission April Fool's prank, but this morning he was all, "I'm not feeling very funny." So I don't know what we're gonna do.