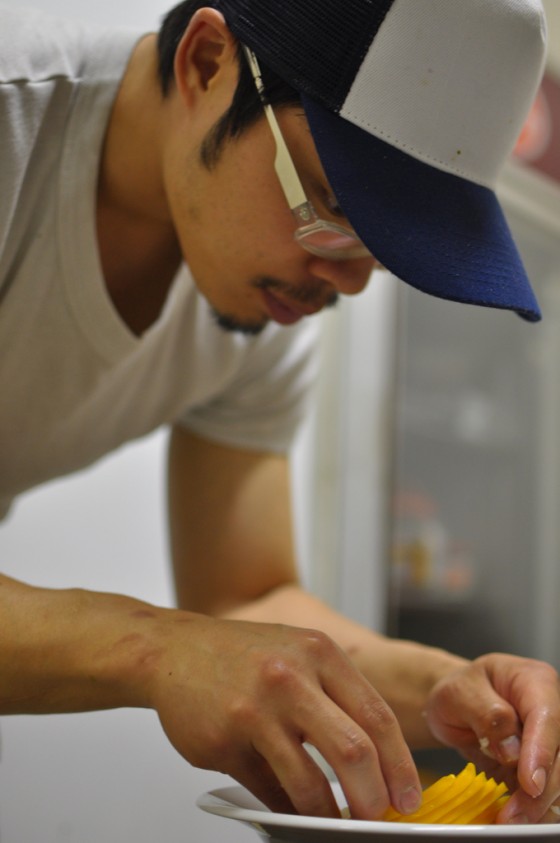 To celebrate the release of the Mission Street Food book, City Lights and McSweeney's have partnered to bring MSF back for one night only, at Cookhouse in North Beach on August 10th. And what's more, it's billed as "An evening of conversation and dining with Anthony Myint and Karen Leibowitz." Kickass! Tickets are available here.
Full press release after the jump includes ticket info, menu and more.
FOR IMMEDIATE RELEASE:
City Lights Booksellers in conjunction with McSweeney's present
Mission Street Food @ COOKHOUSE
An evening of conversation and dining with
Anthony Myint and Karen Leibowitz
hosted by Peter Maravelis/City Lights
Wednesday, August 10, 2011, 6:30 P.M.
at Cookhouse, 253 Columbus Avenue, San Francisco, CA 94133
Tickets available only in advance through City Lights. Tel. (415) 362-8193
Celebrating the release of Anthony and Karen's new book
Mission Street Food
Recipes and Ideas from an Improbable Restaurant
published by McSweeney's
Mission Street Food is a restaurant. But it's also a charitable organization, a taco truck, a burger stand, and a clubhouse for inventive cooks tucked inside an unassuming Chinese take-out place. In all its various incarnations, it upends traditional restaurant conventions, in search of moral and culinary satisfaction.
Like Mission Street Food itself, this book is more than one thing: it's a cookbook featuring step-by-step photography and sly commentary, but it's also the memoir of a madcap project that redefined the authors' marriage and a city's food scene. Along with stories and recipes, you'll find an idealistic business plan, a cheeky manifesto, and thoughtful essays on issues ranging from food pantries to fried chicken. Plus, a comic.
Ultimately, Mission Street Food: Recipes and Ideas from an Improbable Restaurant presents an iconoclastic vision of cooking and eating in twenty-first century America.
Chef Anthony Myint will be personally preparing a three course meal for this evening
Course 1
Rare beef w/ mozzarella mousse, tarragon relish, potato crisps
Course 2
Caesar Salad – MSF style
Oil-cured chicken, chicken skin, avocado, boquerones
Course 3
"Cinnamon Toast Crunch"
bruleed pan de mie, sweetened milk
One beer per person and sparkling water included with each meal. Wine may be purchased separately from Cookhouse if one desires it.
Sorry, no vegetarian options for this evening.
Seating shall be limited.
Tickets go on sale Saturday, July 30, 2011
Admission is $65.00 per person and includes a three course meal prepared by Anthony Myint, an evening in conversation with Anthony and Karen, and a copy of Mission Street Food (a $30.00 value) Tickets are available in advance from City Lights Bookstore. They may be purchased by phone or directly at the front counter. Availability will be on a first-come, first-serve basis. No reservations excepted. All tickets sales are final. Call 415-362-8193 for more information.
A percentage of the proceeds from ticket sales will benefit Food Runners.
Visit :
http://www.citylights.com/info/?fa=event&event_id=1297
http://blog.missionstreetfood.com/
http://cookhousesf.com/
http://www.foodrunners.org