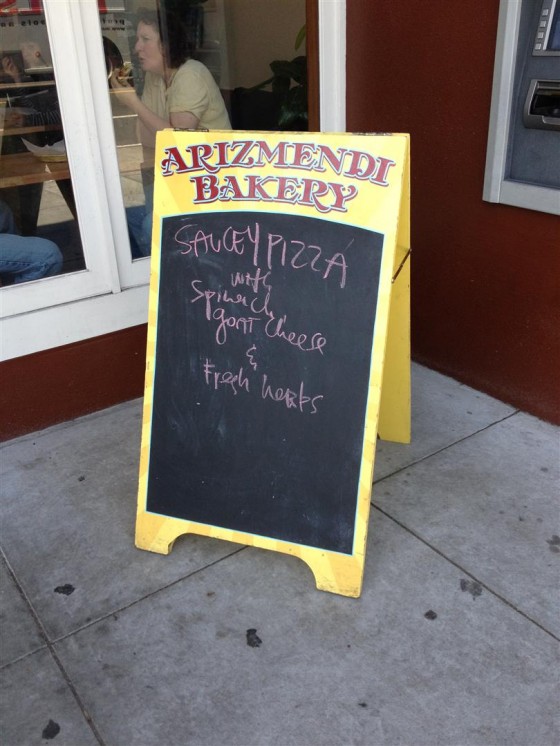 Well, perhaps they'll serve it again at some point.  But at any rate, despite the consistently transcendent deliciousness of Arizmendi pizza, the only thing preventing it from attaining "best pizza in SF" status is the lack of tomato sauce.  Perhaps I'm going overboard here, but I've come to realize lately that my favorite component of a good slice is the tangy sauce (which is why Escape from New York has gained traction on my list recently–did they change their sauce recipe in the last year?  It's damn good now!).
Over at Arizmendi they've perfected the chewy yet firm consistency of the crust and have excelled at complementing pungent mixtures of cheese with fresh and sometimes whimsical toppings, but I have longed to taste that potent combination in conjunction with some zesty tomato sauce since the day they opened.  I've even gone so far as to straight-up call my cousin Nushin a liar when she claimed that she had eaten a saucy Arizmendi pizza in the past.
So you can understand my jubilation upon finding out that yesterday's pizza contained this compelling ingredient.  Sadly however, I don't work in the city anymore so I didn't get to try it.  Did any of you get a chance to check it out?  Was it THE GREATEST PIZZA YOU HAVE EVER HAD???  That lady in the picture seems to think so.
[Photo by Helen]
Previously: