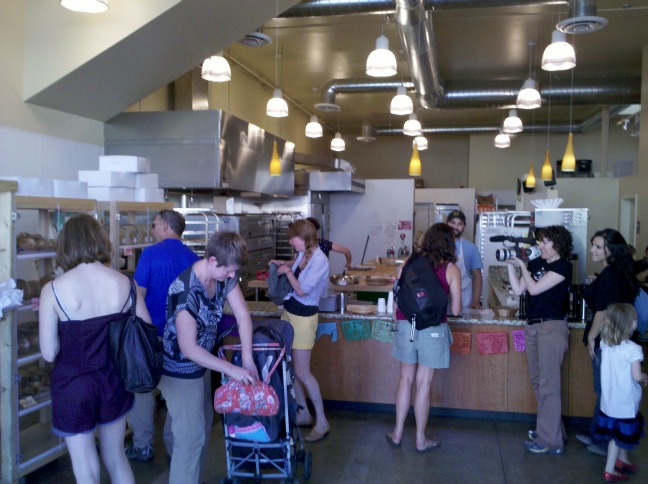 I know we've all been waiting a long time, but the day is here at last and Arizmendi is finally ready to serve you delicious savory and sweet pastries (in addition to the best tomato-less pizza around) all day, every day.  Even though we've been stopping by for free samples the past few weeks in hot anticipation, we just had to check out the official opening ourselves to see what the scene would be like.
And what a scene it was!  A friendly milieu of fixies and strollers, everyone happy to have the opportunity to finally enter the bakery on such a wonderfully sunny day.  There was even a video camera crew from a local food blog asking one of the workers (soon to be co-owners–that's the beauty of this place) about the elusive "Chocolate Thing" that seems to be such the favorite that it sells out within an hour of morning opening.
While we were definitely drawn to the tempting display of both sweet concoctions (the tantalizing brioche knots and pecan rolls) and savory treats (especially the zampano, a roll sprinkled lightly with cheese and pepper), we just had to get our first try of their ever-changing but always delicious pizza.  It had that chewy yet firm consistency that has become the trademark of the cooperative bakery, topped with a pungent mixture of cheese that complemented the baked mushrooms nicely.  Truly worth it despite the scorching weather.  Can't wait to see what tomorrow's pie will be!