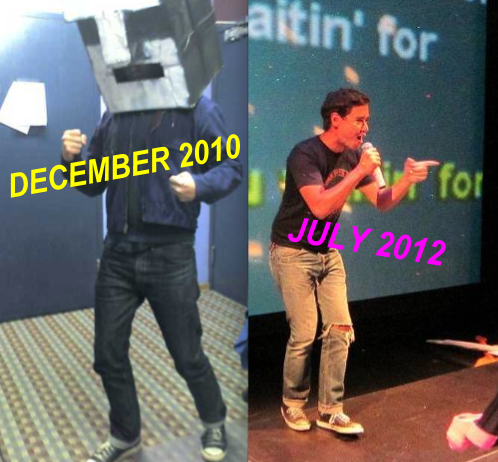 Today it's condos and valet parking. A few years back, the big controversy on Valencia Street was American Apparel trying to move in. There were protests and death threats and Sarah Palin-style hyperbole and official corporate statements and a hearing downtown and Sasha Grey's pussy and we all had a lot of laughs.
Amidst all this, I became acquainted with Kiya Babzani, one of the owners of Self Edge. He told me about some of the bellyaching and violence he'd faced when he first opened his denim shop on Valencia near 18th, and I ended up publishing a big feature about him and the store — which I think still stands as probably the longest thing I've ever written for this blog. Here's how it starts:
When Self Edge took over the old Leather Tongue Video space a few years back, I thought to myself, "Oh great, some high-end Marina douche boutique has displaced a beloved Mission landmark." Over beers the other night, Kiya Babzani, owner-operator of the place, informed me that apparently this was a pretty common misconception in the early days, as Self Edge was repeatedly vandalized and he and his employees were shouted at, muttered at and spat at.
Mind you I'd never patronized Leather Tongue, because who the fuck has even seen a VCR in the last 12 years? But it looked pretty punk rock and I guess I liked knowing it was there.
We go on to talk about his denim obsession and a then-forthcoming jean collaboration he was really excited about. (That jean ended up being the first thing I ever bought from Self Edge, and in the above image you can see how awesomely they age.)
Anyway, American Apparel never made it in, but Valencia has changed a lot nonetheless. Self Edge is still there, still going strong, and they just completed a big remodel to coincide with their sixth year in business, and this Saturday night there's a big party (and sale) to celebrate. Here's what to expect:
We are once again open for business in San Francisco and have updated our store with two dressing rooms, fancy lighting downstairs, a new paint color scheme, more natural light coming in from the front, a new online shipping fulfillment room behind the store, a wild looking new rack system downstairs, and more.
To celebrate all these improvements and the fact that we just signed another six year lease on our original space we're having a "6 Year Itch" Anniversary Party on September 1st at Self Edge San Francisco along with a 12% off sale at all three Self Edge stores and our online store.
The Self Edge San Francisco Anniversary Party will be from 6pm to 10pm on Saturday night, September 1st.  Come enjoy some beers, music, and general rowdiness courtesy of our unruly clientele and local retailer friends.
Read on for more info on the party and the sale (including online options).
UPDATE: Bonus pics of my jeans here.