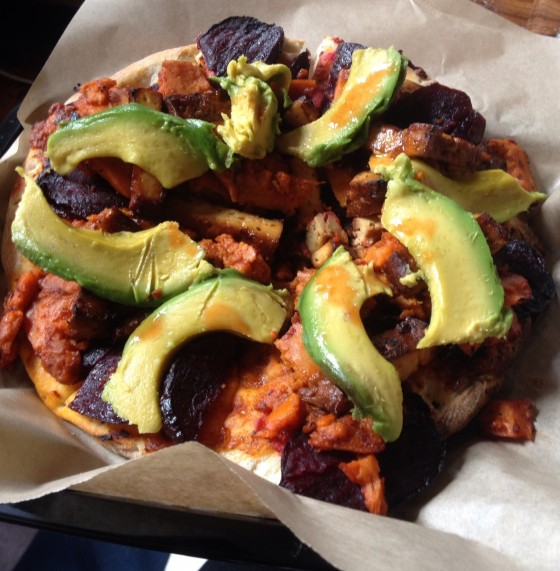 It has been quite some time since I've contributed to Mission Vegan. I apologize. There has been a bit of a dearth in new and exciting vegan eats in the Mission, I'm afraid, and I was feeling sort of down about it. There are so many new restaurants on Valencia, and not only are they out of my income bracket, but they don't have a single damn vegan thing on the menu. I don't think restaurants are obliged to provide vegan options, but it is a nice thing to do because sometimes even omnivores get tired of pork belly and weird artisan cheese. Plus, it sort of makes me think that these fancy pants chefs aren't very creative if they must rely on animal products to develop a dish. Anyways, I digress. This post isn't about how much the Mission and Valencia Street suck now. We have enough of that.
Us vegans have it pretty lucky in the Mission though, especially when it comes to pizza. Escape from New York and Beretta both offer vegan pizza and Paxti's and Amici's deliver to the Mission. Once upon a time, however, we weren't so lucky. The dark days of a Mission without vegan pizza were tough. We'd request cheese-less pizza from Serrano's and get strange looks. Or, we'd buy those crappy Amy's vegan pizzas from Cala Foods and dump a bunch of Tapatio on them and pretend they were tasty. It was hard times, my friends.
There was one place that did offer a vegan pizza, however: Atlas Cafe. As a Northern Californian, I don't claim to know anything about pizza, but I do know that what Atlas offers should NOT be called pizza. The No Cheese Pizza's toppings are an unholy trinity of sweet potatoes, beets, and avocados–three things that are a) too heavy to go on a pizza and b) have no business being on a fucking pizza!!!! And oh wait, I almost forgot, it also has tofu on it? The first time I ordered it, I was like "oh hell no," but once I started forking it into my mouth (you can't pick it up and eat it like normal pizza), it started to grow on me. It is so wrong, that it is right. I ordered it again the other day for the first time in years and this mystic pizza thing still holds strong.
So thank you, Atlas Cafe, for being a vegan pizza mainstay in the Mission. Never take it off your menu.