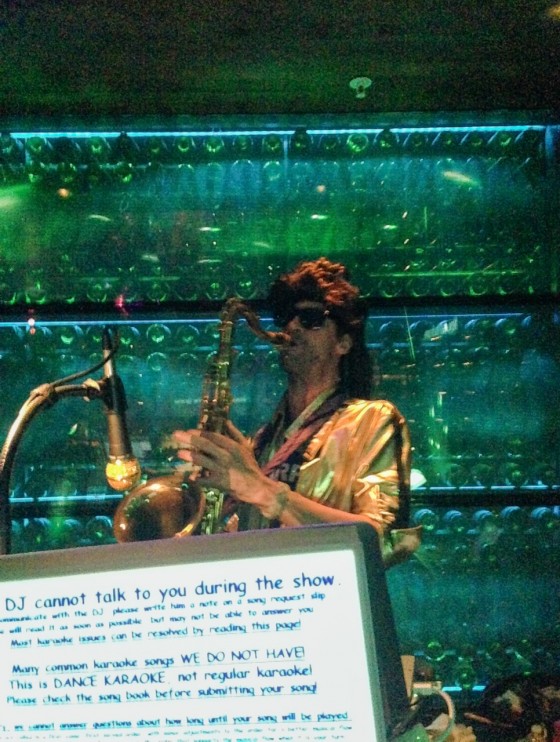 Palo Alto Weekly just published a big feature on DJ Purple, and they dug deep. Here's some epic DJ Purple history:
Hays came to the Peninsula from New Jersey in the '80s to pursue an undergraduate degree at Stanford University. Although he was a capable student — he says he earned high marks in high school and that he turned down an acceptance letter from Harvard University — ultimately Hays gave up on his studies so he could pursue a career in music.
At the time, Hays played in a number of dance-music cover bands — some of which were well-known in certain circles of Stanford students, he says. Back when he dropped out of Stanford, Hays says he was thinking he'd continue playing live music in bands. His instruments include saxophone, keyboard and guitar among others. However, as time passed, he started playing solo shows, using samplers and laptops as his backing band, and before long, he had mostly abandoned live instrumentation in favor of mixing dance music at parties, bars and clubs.
Though it's been more than a decade since Hays played regularly with a band, the lessons he learned while performing with other musicians on stage have greatly informed the work he does as DJ Purple. Hays frequently plays saxophone or harmonica during songs to spice up a musical interlude or give a certain passage more punch. He will sometimes sing backup harmonies. And he has even been known to reach out to regulars via Facebook to suggest a song he thinks they'd be good at or to give pointers on microphone and singing technique. [link]
Yeah, he once messaged me to suggest I do "Little L" by Jamiroquai and it took me about 3 years to work up the courage. (By the time I did it, he'd forgotten it was his idea.)
Be sure to check out DJ Purple's show every Thursday at Slate Bar on 16th Street, and this Friday there's the very special Singin' & Pingin' returns to the Mission party at Verdi Club: