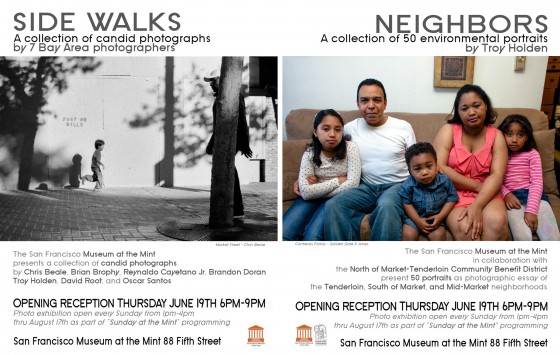 Twin openings inside the old mint! The first one is a group show, but you probably know Brian Brophy better as superstar blogger The Tens from Tumblr. The second one is by a guy named Troy Holden who way back in 2007 and 2008 was known as Plug1 and did a (now-defunct) blog called "What I'm Seeing" where he posted daily pics of his routine roaming around SF. It was like Instagram waaaaaaaaaaaay before Instagram, and it was inspiring. Now he's doing portraits of his neighbors! Here's the deal:
The San Francisco Museum at the Mint in collaboration with the North of Market/Tenderloin Community Benefit District presents "Neighbors", 50 environmental portraits by Troy Holden as a photographic essay of the Tenderloin, South of Market, and Mid-Market neighborhoods.
"Side Walks" is a collection of photographs made in downtown San Francisco by Bay Area photographers Chris Beale, Brian Brophy, Reynaldo Cayetano Jr., Brandon Doran, Troy Holden, David Root and Oscar Santos.
Zines available for sale.
Yeahhhh, zines too! RSVP and invite your friends!