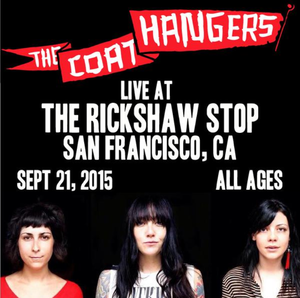 They're possibly the best live band in rock 'n' roll right now. Do not miss.
Here's the official blurb:
If you're familiar with The Coathangers then you probably know the Atlanta group's premise. The story goes that four young women decided to start a band for the sole purpose of being able to hang out and play parties. They weren't going to let the fact that none of them knew how to play any instruments get in the way of their having a good time. The backstory certainly added to the charm of early songs like "Nestle In My Boobies" and "Stop Stomp Stompin'"–songs that resided somewhere between no-wave's caustic stabs of dissonance and garage rock's primal minimalism. In the seven years since their formation, The Coathangers have released a slew of records and toured across North America and Europe countless times. The persistence of such a casual endeavor is a testament to the infectious quality of their songs and the electric nature of their unruly live show.
Read more and get tickets here!