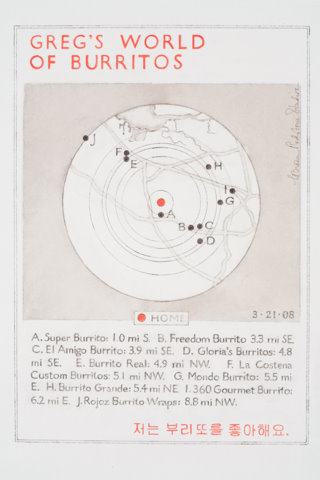 I stumbled upon this custom radial map of some guy's favorite burrito joints and their relative distances from his home. From the looks of it, it's a map of Santa Clara:
Her son Greg, then 29, had recently introduced her to the "My Maps" plotting feature on Google maps. "He suggested that it would [even] allow me to map his favorite burrito joints, and I took him at his word," says Brown. "I had radial maps in my head; they seem the most primal, symbolic kind of map. And yet–here's the beauty and elasticity of maps–perfect for burrito joints!" Wondering about those Korean characters at the bottom? They're a nod to Greg's wife, who is Korean. The translation: "I love burritos."
This looks like something we'd see on Burrito Justice; I'm surprised Johnny0 wasn't consulted. Although in the Mission we'd definitely have to use feet instead of miles.
(via National Geographic)