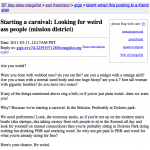 From the "talent gigs" section on Craigslist:
Starting a carnival: Looking for weird ass people (mission district)
Are you weird?
Were you born with webbed toes? do you eat fire? are you a midget with a strange skill? Are you a man with a normal sized body and one huge bicep? are you a 7 foot tall woman with gigantic boobies? do you have two noses?
If any of the things mentioned above ring a bell, or if you're just plain weird…then we want you!
Why? Because we're starting a carnival. In the Mission. Preferably at Dolores park.
We need performers! Look, the economy sucks, so if you're not up on the modern man's hustle (aka startups, aka taking money from rich people to sit in the Summit all day and look for yourself on missed connections) then you're probably sitting in Dolores Park doing nothing but drinking PBR and smoking weed. So why not get paid in PBR and weed for what you're already doing for free?
Here's your chance. Be weird.
it's NOT ok to contact this poster with services or other commercial interests
Compensation: PBR, weed, grilled cheese, or whatever else the citizens of Dolores park decide to pay us in.
PostingID: 2259197128
Talent is an asset! As is having deformities!
I would definitely pay somebody a grilled cheese for the chance to regard their pair of noses.
[link]