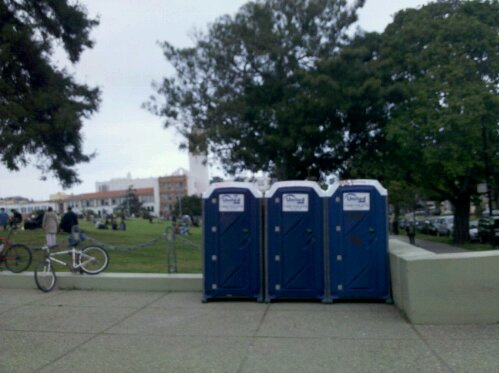 Recently, six porta potties appeared at the entrance to Dolores Park, more than doubling the number of restroom options previously available.  The effect has been tremendous, with bathroom lines reduced dramatically, even during yesterday's Hunky Jesus extravaganza.  And now dedicated boyfriends no longer have to prove their affection by waiting with their significant others in the girls line!
So, has the city finally figured it out? Are these now a semi-permanent fixture in the park until the long awaited Dolores renovation project constructs completely new ones?
If not, then they're totally blowing it.  For now, enjoy the convenience and the cleanliness! Seriously, these are some of the cleanest porta potties in which I've ever set foot! And they smell nice too! Kind of like flowers! So much so that I exclaimed as much upon entering, and the woman using the one next to me agreed, "Isn't it delightful?"
It sure is. Enjoy it while it lasts!