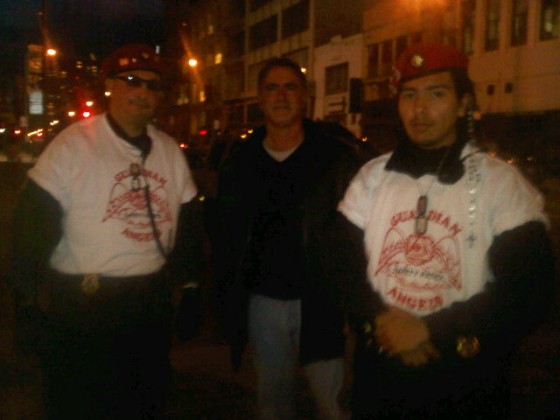 [pic from @PhilBronstein]
The former Chronicle editor paints a dark picture of The Mission in his new column on SFGate, saying about violence allegedly perpetrated by local MS-13 members, "If they don't shoot straight, though, the next news story might be about you." He goes through the current MS-13 trial, commenting on their Disney-esque nicknames, Tweety, Spooky, Goofy and Droopy, while just two months ago he patrolled our streets on a serious mission with Guardian Angels like Scorpion, Puma, Robo Cop and Maverick.
We all know there is a violence problem in our neighborhood. A lot of us just live with it, hoping we don't get caught in the above mentioned crossfire. But like I said before, it's our neighborhood, we do have a responsibility to look out for each other. I can appreciate that Mr. Bronstein wants us to understand the gravity of the situation, but I feel like the harshness of the language (like the title, right out the gate, The murderous gangs that stalk the Mission) creates a sense of a divide, when in fact we're all living with it, those of us that live here. The divide is real, I don't pretend to think that MS-13 members meet up in Bar Bambino or stop by Self Edge for some new jeans. I guess I just tend to think that it's more helpful when speaking to a broad audience to speak in a way that seems to head towards a better understanding, rather than fear.
I agree that people who perpetuate violence aren't "charming and colorful piece[s] of the neighborhood tapestry, like the murals on Balmy Alley", but separating them from the rest of the people who live here, and preventing more people from turning to violence, isn't as easy as any of us would like to think. No matter where we want to draw the divide, the fact is that we all influence each other, and solving these problems is an ongoing process.