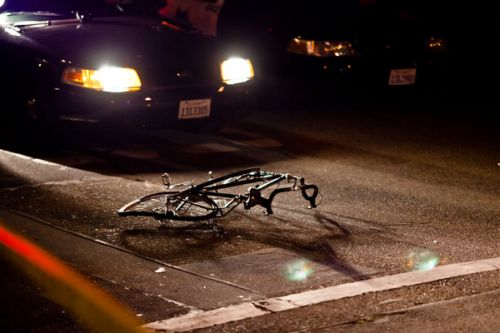 Wow, be careful out there fellow cyclists–it sounds like we have another maniac on the loose.  Our pal Shelley and her friend were just menaced by a crazy driver who appears to have it out for people riding bicycles:
It was a black Chevy Impala with tinted windows. Rammed us from behind heading northbound on Shotwell btw 17th and 18th (right in front of the ODC building), and then executed a 3 point turn to escape. It was crazy, he came at us honking, and then shouted "I warned you!" as he drove off. I couldn't believe it was happening. I'm just grateful the only serious damage was to Erik's bicycle (The bike ended up under the dude's front bumper.. totally snapped the back rim in two, crushed the right side toe clip, headset is fucked, etc.)
Luckily, they got the license plate and filed a police report, so be on the lookout for a Black Chevy Impala with license # 6PWS040.
It was almost one year ago exactly that some creep in an SUV went on a rampage and targeted 4 different cycles before eventually being caught by police, and even less than that since Yannick Linke was killed at Turk and Masonic by an allegedly drunk driver who then tried to flee the scene, so it's clear that there's definitely still some tension between automobiles and bicycles, even in one of the most cycle-friendly cities in the country.  Be careful out there everyone!
[Photo by Troy Holden]