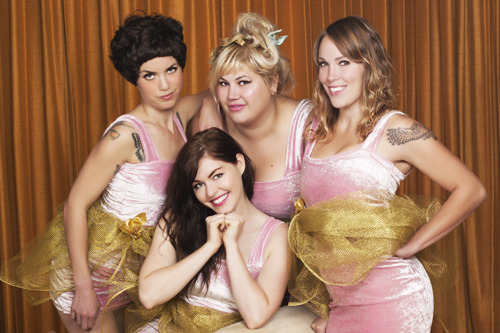 The Bold Italic and Dusty Stax are throwing an epic party at the Verdi Club weekend after next:
Join us by dressing sharp and celebrating a night of shakin' your stuff with a live soul revue supergroup with a 9-musician strong backing band. The lineup includes an All Star Girl Group featuring Turn Up Records Recording artist Heidi Alexander (The Sandwitches), Shannon Shaw (Hunx and His Punx), Noelle Cahill (Magic Trick) and Jen Snyder (Jonesin').
A few fellas will sing along too, including Sonny Smith of Sonny & the Sunsets, Kelley Stoltz, and your host Dusty Stax, crooning out favorites by Ike and Tina, Irma Thomas, and The Crystals to name a few. Dick Vivian (Proprietor of Rooky Ricardo's Record Shop in The Lower Haight) will work the turntables with classic soul singles. He'll also be offering instruction on how to dance like a pro!
Bites from one of our favorite pop-ups, Rice Paper Scissors, and libations will be available for purchase to keep you fueled for dancing the whole night long. We'll start you out with a complimentary cocktail from Distillery No. 209. The ever-delicious Mission Minis will be there too, with free cupcakes in holiday inspired flavors to hit your taste buds at just the right angle.
And check out this strict dress code:
No denim will be permitted. For fellas: ties and collars are a must and leave those sneakers at home. Ladies: you know what to do… Just don't forget your dancing shoes. And don't stress about dates, stags and the like are welcome. 21 and over dance all night!!
Tickets cost $30 each, so if you'd like to win a pair for free, post a sneak preview of you in your outift on our Facebook wall. Contest ends Wednesday, December 7, 2011 at noon, when a winner will be chosen based on merit. Good luck!