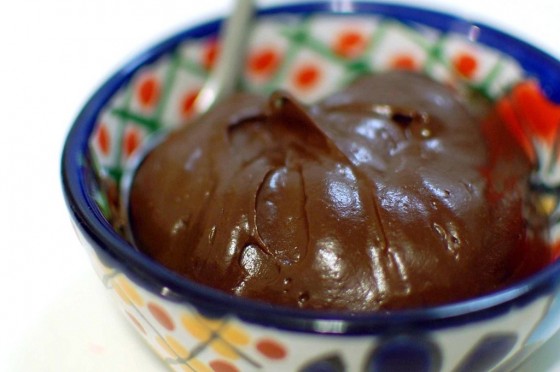 One of the best parts about living in the Mission is the avocado supply. They are plentiful, cheap, and available at all the markets that occupy almost every corner of our fair neighborhood. Have you ever met anyone who was like, "Guacamole? No way, José." I haven't, and if I did, I wouldn't want to be friends with them.
Much as I love avos, I'd never thought to put them into a dessert until I met Laura Miller at a raw, vegan desserts class at Pot & Pantry on 18th & Guerrero this weekend. She is rad, she's a babe, and she runs Sidesaddle Kitchen, whose motto is "Raw. Vegan. Not Gross." She also taught me how to turn avocados into chocolate pudding, and now I want to be her BFF (I promise I'm not trying to creep on you, Laura, despite my previous comment about how you're a babe).
The crazy thing is that you can't taste the avocado. Try giving it to your friends and not telling them what's in it until after they are all like, man, this is awesome! Then you can be like, yeah, and it's vegan and made out of avocado!
If you have a food processor, or a blender and a rubber spatula, you can make this in like 10 minutes! If you don't have a food processor and you want one, look around at Goodwill and Craigslist. My mother-in-law got mine at a yard sale for $10 (Thanks, Sharon). It's from like 1978 and it purrs like a kitten.
Laura's teaching another class this weekend, and this one is about breakfast. We all want to be the kind of person who eats breakfast, right? She'll make it totally fun and she'll feed you. GO!
Here's Laura's chocolate pudding recipe. Enjoy!
Ingredients:
2 large avocados (I used 3 small)
½ cup agave or maple syrup
½ cup cocoa powder
3 Tbsp. coconut oil
1 tsp. balsamic
½ tsp. nama shoyu (or soy sauce)
¼ tsp. salt
Directions:
Blend all ingredients in a food processor. Enjoy as is, or freeze overnight for an icy snack.