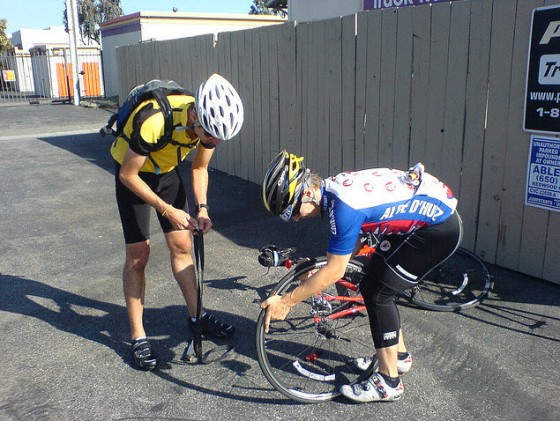 Hey you!  Yeah you there, the one with the funny haircut.  Do you know how to fix a flat on your bicycle?  Whaaaaat???  Why not?!?  What are you gonna do when you're in the middle of nowhere on a beautiful ride and you hear that instantly recognizable hiss emanating from your tire?
Luckily, your friends at Mission Bicycle have the answer:
At this hands-on workshop, we'll start with the basics, then give you the tricks and secrets of fast and easy flat fixing.
At the 11 AM session, we'll get jacked on Fayes coffee and Pepple's vegan donuts.  At the 5 PM session we'll savor fresh Firebrand pretzels and ice cold beer (Anchor Steam and IBC).
We'll even send you home with a set of our favorite tire levers.
We end the session with a group ride – a tour of the Mission District's 11 bike related businesses.
One last thing.  No spectators allowed.  Nobody admitted without a bike.  Come prepared to get your hands dirty.
Of course, it wouldn't be fair if we didn't have two (2) free tickets to give away! All you have to do is tell a little story in the comments about a time when not knowing how to fix a flat really ruined your day. The contest closes at 5pm on Wednesday and entries will be judged on merit.
And if you just want to be sure that you get in on this, you can also register for the class here.
[Photo by pinkestblack]