Check out these two things going on this Friday night: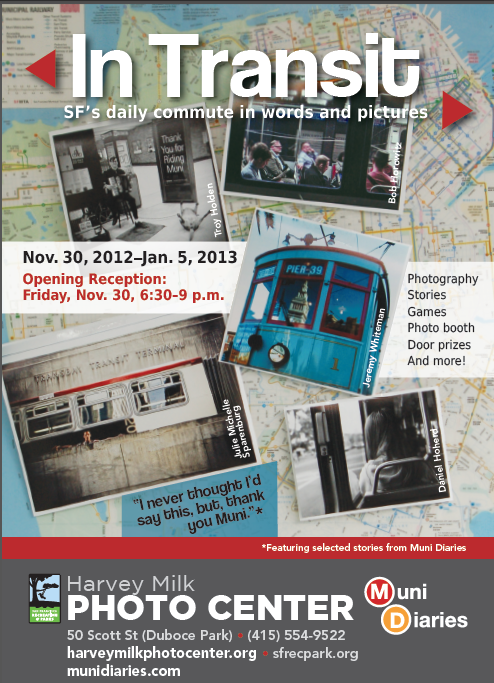 First, our friends over at Muni Diaries are throwing a party for the opening of In Transit, a photo show celebrating 100 years since the first Muni car picked up its passengers, probably half an hour late.
The opening reception this Friday will also feature our new "Rename Your Muni Line" game where you can bestow a new nickname for your line (6-Parnasty, anybody?) on a humongous map, pin-the-tail-on-the-donkey style (no blindfolds, unless you're so inclined).
Participating Photographers include Jeremy Brooks, Roi Brooks, Reynaldo Ruetas Cayetano Jr., Claudine Co, Mike Dillon,Brandon Duran, Adolfo Echeverry, Dave Glass (Dizzy Atmosphere), Daniel Hoherd, Troy Holden, Bob Horowitz, Bhautik Joshi, David Lytle, Calvina Nguyen, Julie Michelle Sparenberg, Moncrief Speaks, Doctor Popular, Sergio Ruiz, Hep Svadja, Jeremy Whiteman, Jon Wollenhaupt and yours truly (me).
You can also bring your own Muni photo to be included on the wall of commuter contributions and win a novelty slide viewer door prize.
In Transit: San Francisco's Daily Commute in Words and Pictures
Friday, Nov. 30, 6:30 – 9 p.m.
Harvey Milk Photo Center
50 Scott Street (Duboce Park)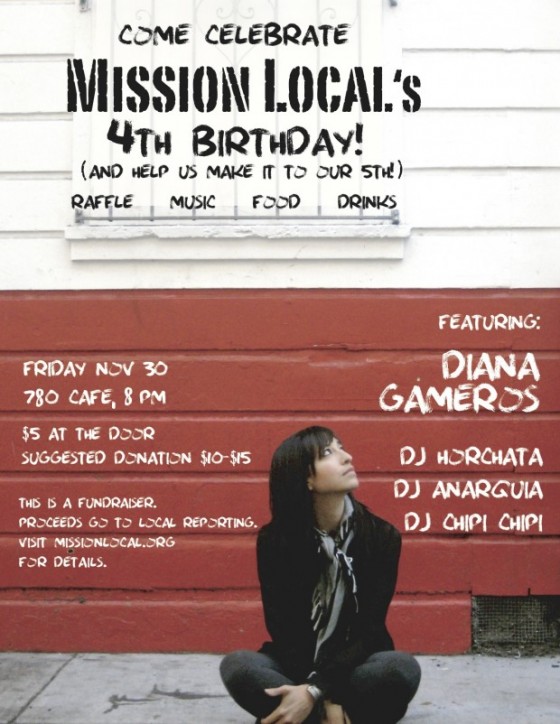 Then you can swing on over to the Mission Local party at 780 Cafe. It's their 4th birthday and they're raising funds to be able to continue reporting and exploring the life and times of our great neighborhood. Food, drinks, raffle and music by Diana Gameros, who I've seen a few times at Roosevelt Tamale Parlor and really enjoyed.
Mission Local's 4th Birthday
Friday, Nov. 30, 8 p.m.
780 Cafe, 780 Valencia Street