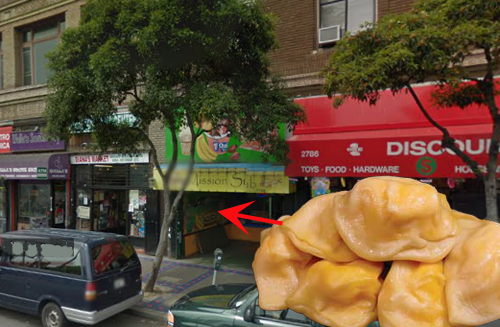 For years, we've been wondering when you might be able to get a decent pierogi in the Mission. (Old World does a good job, but they're a truck/pop-up, so you can't always get it when you want it. They have a couple of Hanukkah dinners coming up btw.)
Now, perhaps the time has come. Grub Street last week broke the news:
A new pierogi restaurant called Stuffed is making its way to the small shop space that currently houses Mission Sub (2788 Mission between 23rd and 24th). Grub Street catches the news this a.m. and some further digging reveals that owners Dana Sacco and Andy Schoengrund have been developing their pierogi bar concept for a number of months now. We've reached out for some further details and an opening timeframe (it will obviously be 2013) and will let you know as soon as we know more.
And today they published a first look at the menu:
Traditional Pierogi
Potato, farmer's cheese, cheddar cheese. Served with onions and sour cream. Bacon-wrapped option.
Veggie Pierogi
Potato, portabella mushroom, spinach, goat cheese. Served with parmesan cheese sauce or pesto sauce.
Pulled Pork Pierogi
Seasoned slow cooked pork with walnut butter sauce and fontina cheese.
Salmon Pierogi
Potato with cream cheese, smoked salmon. Served with butter and lemon juice sauce and dill.
Lamb Pierogi
Ground lamb with Mediterranean spices with a goat cheese center. Spinach dough, and served with hummus sauce.
Spicy Buffalo Pierogi
Potato with blue cheese, pan-fried in spicy Buffalo wing sauce.
Breakfast
Pierogi topped with eggs Benedict with plain potato or chorizo potato fillings.
Bacon-wrapped option
Daaaamn.
[Image via Eater SF]