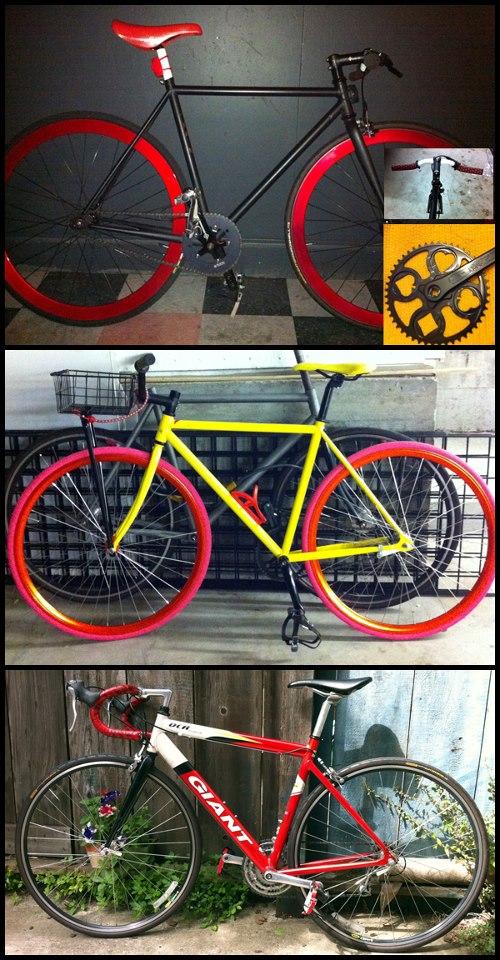 One of our favorite neighborhood bartenders recently suffered the misfortune of having his bicycle as well as those of some of his neighbors stolen from their garage in the wee hours of the morning today.  What makes the situation even  shittier is that it wasn't even their  fault:
Early this morning, my neighbor left his key in our garage door and all of our bikes were stolen. Police report has been filed and we do have insurance but I'd really like to get my bikes back.

Mission Bicycle Valencia 53cm Frame matte black with Red Anodized B43 Rims, Paul Crank and distinctive Red saddle with white polka dots and upside-down white riser bars.
Motobecane (naked) 50cm yellow frame with bronze rims and Coaster brake. Yellow addle, 6″ riser bars and basket
Giant OCR Two 50cm – New soma seat, cinelli stem & drop bars.
Forgetting your key in the lock (or dropping it right in front of your door) is something I ALWAYS worry about accidentally doing, so I know how crappy this must seem.  Hopefully someone will spot these before it's too late!  Let them know if you discover anything here.
Update from the owner!
I should add that a neighbor dropped the key while fixing a blown fuse in the middle of the night and at least two of the bikes were locked (there were 7 bikes stolen total).

We're checking security tapes at the end of the street to try and get an id on the vehicle or its plate.

And yes, that middle bike is hideous by design… it's my beater bike and I made it stick out like a sore thumb specifically so it wouldn't get nicked. Oh well.

Also stolen:

1012 Cannondale CAAD10 white with red and black accents
2008 EAI Bareknuckle green with red Chris King headset
Masi Special Fixed – metallic blue/green with Rev gold deep V wheelset