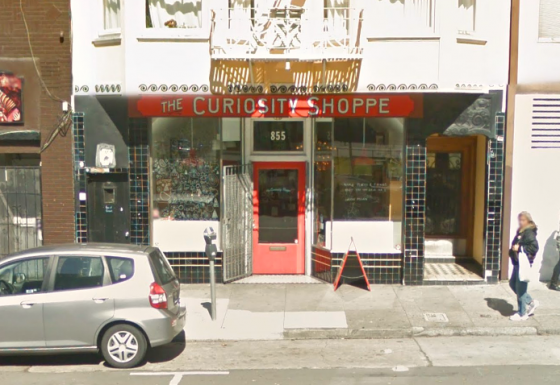 The Bold Italic asked them why:
We were so sad to hear you're closing up shop. Why is The Curiosity Shoppe closing?
Don't be sad! The simple answer is that it's time. We've had an amazing run and met so many unbelievably creative and talented people through the Shoppe, we just feel that now is the right time to open up some space in our lives for other creative opportunities.
We keep hearing about the rising rents on Valencia St. You guys have been there for years – were rent prices factors in your decision at all?
No. This wasn't a financial decision, it was a creative one. That being said, of course the neighborhood is changing, and it is a lot of work to run a business in the Mission. But we never wanted to be anywhere else, and in the time since we opened we've seen Valencia go from a local destination to a national (and even international) one as well. We're extremely proud of all of the other small businesses in the neighborhood that continue to make it such a unique and inspiring place.
Read on for talk of their future plans, their collab with Target and more.
Oh and note that the online shop is closing too, so get it while the getting's good.