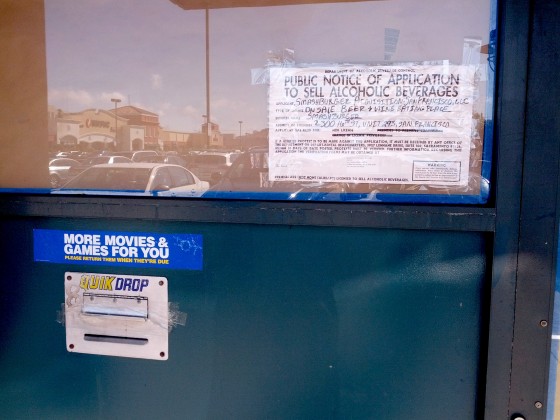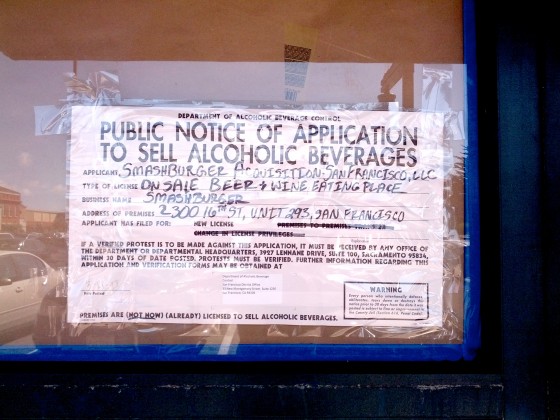 This is the former Blockbuster at the Potrero Center, by Safeway and Petco (and above the Boston Market from my "Class warfare and McDonald's" story). It's gonna be a Smashburger, a slightly fancy burger chain that serves beer and wine! Here's the deal, according to Wikipedia:
Smashburger is an American chain of fast casual burger restaurants that originated in Denver, Colorado.[1] The name comes from the process used to cook burgers, which entails smashing a ball of ground beef on a grill to "sear in the juices."[2]
[...]
Smashburger was founded in 2007 by Tom Ryan, a veteran of fast food chains including Quiznos, McDonald's, Pizza Hut, and Long John Silver's. At Pizza Hut he introduced the company's thin crust pizza, and while at Mcdonald's he started the McGriddles, and the McFlurry.[citation needed]
[...]
Smashburger describes its mission as "to be every city's favorite place for burgers." In Denver, the alternative-weekly Westword named it the best locally owned chain for 2008.[6] Later that year, Denver Magazine named it "Most Likely to Succeed" and local ABC affiliate KMGH/Channel 7 touted it as the "best burger" on its "A List."[7]
Sounds alright! Read on for more.
P.S. A few weeks back, Inside Scoop reported that this outpost is just one piece of a big Bay Area takeover.