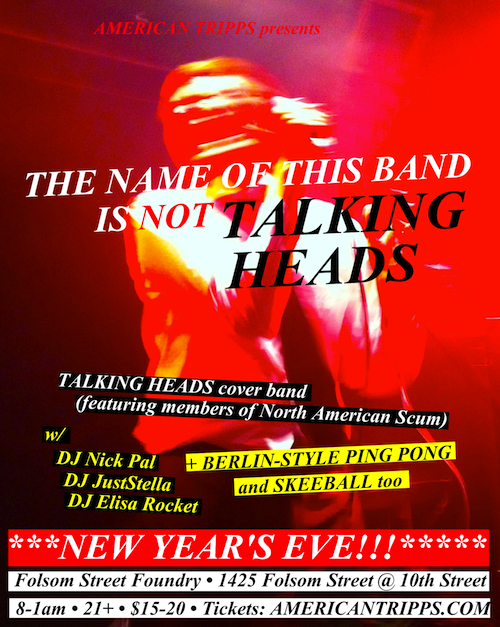 Here's the deal:
How would you like to spend New Year's Eve with a KILLER Talking Heads cover band? Oh, you'd LOVE to? Well you're in luck…
******THE NAME OF THIS BAND IS *NOT* TALKING HEADS********
• TALKING HEADS cover band (featuring members of North American Scum)
• DJ Nicky Peeps (BFF.fm, KALX) spinning power pop
• DJ JustStella (American Tripps, BFF.fm) spinning classic CBGB hits
• DJ Elisa Rocket (KDVS, Smithsonian Folkways) spinning African party music
• Berlin-style PING PONG
• Skeeball courtesy of Joey the Cat
• LOTS MORE tba
AND it's at the incredibly awesome FOLSOM STREET FOUNDRY!!!!!!!
The band, in addition to members of North American Scum, also features Natalie Galatzer of Bike Basket Pies fame on backing vocals and lead vocals! And be sure to catch DJ JustStella's BFF.fm show (Friday 8-10pm) and DJ Nick Pal's BFF.fm show (Sunday 6-8pm) for a little taste of their tastes.
TO WIN A PAIR OF TICKETS, tell us your favorite Talking Heads jam in the comments section below. Winners will be selected at random and notified via email. Contest ends at 5pm this coming Monday.
To buy tickets, hit up AmericanTrippsNYE.eventbrite.com