Brittany & Katie went to a show at Z-Below, and they seemed to have appreciated it, though not quite to the point of actual enjoyment . . .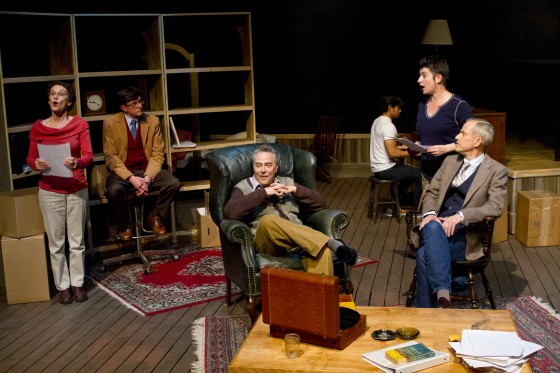 Pictured left to right: Tamar Cohn as Kay, Craig Souza as Carpenter, Donald Currie as Auden, Justin Lucas as Stuart, Kathryn Wood as George, and John Fisher as Britten in The Habit of Art by Alan Bennett, directed by John Fisher, a Theatre Rhinoceros production at Z Below
Photo by Kent Taylor.
Theater Rhinoceros, the (self-proclaimed) oldest queer theater in America, has a mission to "produce works of theatre that enlighten, enrich, and explore both the ordinary and extraordinary aspects of our queer community." Although the description of Allen Bennett's play The Habit of Art about British poet, W. H. Auden, and British composer Benjamin Britten, didn't have us rushing to the box office, we were intrigued to see if the playwright who brought us The History Boys had an equally witty and enlightening take on what could be a very dry topic. So we returned to one of our favorite mission theater venues, Z-Below, to see what Theater Rhino had in store.
Brittany: It was very arty. The whole play within a play thing was interesting, but despite some strong actors, I don't think they made the play within a play thing work. Some of my favorite moments were when they pulled back to the focus on the rehearsal, so I enjoyed it as a device, but they didn't real nail it for me.
Katie: I really struggled through the first act, especially when they were acting like actors that didn't know their lines and standing up there with scripts. I think the actors did the best with what they were given, but sometimes they would go in and out of their English accents and that was a little distracting to me. Jumping in and out of the play to the "rehearsal" gave me whiplash.
B: I think the other thing that's hard is that the play they were rehearsing wasn't a very good play, at least in my opinion. I really liked the woman who played the stage manager though (Tamar Cohn), she was great and her monologue at the end was really touching.
K: I wouldn't say it was a bad production, I just feel that this show is for a theater person. If I sent my non-theater-going friends to this show they would never trust me again.
B: Yeah, some of the most charming jokes or scenes were the ones that were so specific that non-theater people wouldn't get them. Definitely not a show for everyone.
The Verdict: If you're a theater person, you'll probably find the play within a play element of this show intriguing, and you'll get all the rehearsal related jokes. If you're familiar with W.H. Auden or Benjamin Britten, you'll probably find this insight into their relationship, and their personal lives, interesting. Otherwise, skip it, this probably is not the show for you.
The Drama Talk: The play within the play is full of poetry, music and theatricality. An interesting story about two aging artists, no longer in their prime, and the young men who helped feed their artistic temperament (AKA male prostitutes and pre-pubescent choir boys). Jumping between the story found in the play, and the rehearsal of that play, made the emotional through line fall short (as Katie said, whiplash inducing). The rehearsal elements of the show, however, are some of the most endearing and are definitely where the humor is found. Despite some strong actors, and a well designed set that makes the sometimes cramped theater feel much bigger, this piece falls into the category of only-for-the-artsy-types.
The Drinks: We went to nearby Benders for their free afternoon Sunday BBQ. Brittany got a dirty martini (since they were drinking martinis during the show) and Katie got her usual rum and coke. What better way to unpack an highbrow play than with some lowbrow BBQ.