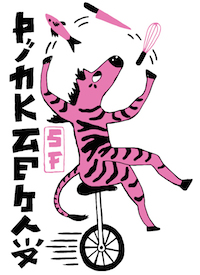 His name is Jesse Koide and he's been the top man at MCF for a long time (since founder Danny Bowien's been busy opening restaurants in NYC and modeling for fashion shoots). Now he's doing his own thing, but with a very Mission Chinese-style twist. Inside Scoop reports:
Like the original days of Mission Chinese Food inside Lung Shan, Pink Zebra and Tao Yin will actually co-exist within the space. So somehow, Koide's experience in cooking at a restaurant within in a restaurant will be put to good use.
Pink Zebra will start out as a five-nights-a-week endeavor, serving Koide's eclectic menu of Japanese and Mediterranean fare. There's a little sushi counter in the space, where Koide and cohort Rio Sakai hope to serve an omakase menu; both hot and cold a la carte dishes will be available in the rest of the room. Pink Zebra and Tao Yin will share the kitchen, and Tao Yin will likely reserve a few tables for its regulars as well with a limited menu of its own on Pink Zebra nights.
"Basically, I would call it Mediterranean-inspired Japanese food. A lot of the stuff I end up making is influenced by Japan, and my experience with Italian food," says Koide, who has worked at  Ichiban Sushi, Moshi Moshi, Blowfish Sushi, Bar Tartine and Farina, among others.
Yeah, it's called Pink Zebra. Boom! Read on for more details and a tidbit about what's gonna happen at MCF.
[via Eater SF]