Yesterday we published a post about developers' plans to raze a whole city block at 19th and Bryant in order to build a giant condo complex. In the comments section, neighbor TBone hipped us to this vintage article from the year 2000, which laments an eerily similar condo complex plan — one you just may recognize: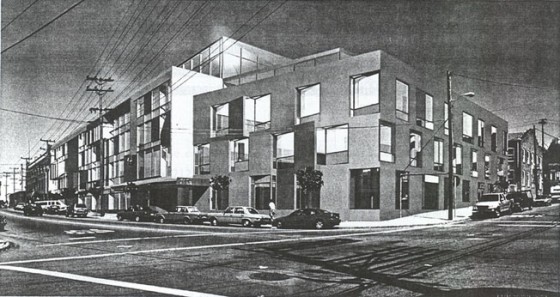 The project is being proposed by Stein Kingsley Stein Investments (SKS) (partly financed by the late William Simon, Treasury secretary under Reagan). SKS is also rehabbing a nearby warehouse into an office building at 19th and Harrison Streets. SKS's headquarters are in the former Green Glen laundry building at 18th and Folsom — another SKS office conversion project.

SKS is notorious for having been the biggest contributor to Mayor Willie Brown's re-election campaign (plopping down $100,000 in political juice).

The Bryant Square site also includes the former Pacific Felt Co. brick factory building, which was rehabbed into 35 live/work lofts (at prices up to $610,000), called "The Mill." In the photo below The Mill is the brick building at left, the three-story curtain wall building at right formerly housed a sweater factory (now evicted).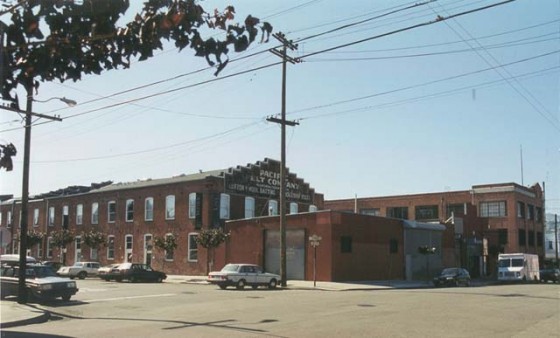 Read on for lots more info and criticism, and more photos. Or jump straight to any of the following topics:
Braindead Growth
New Edge Downtown without Transit Support
Environmental Injustice
Displacing Artists and Blue-Collar Industry
A Daily Tsunami of Muscle Cars
Open Space: Gated Fortress or Public Plaza?
Approval Sparks Uproar
(I actually have some friends who live in this place now. One is an elementary school P.E. teacher, one is a lawyer, and they're very nice people.)