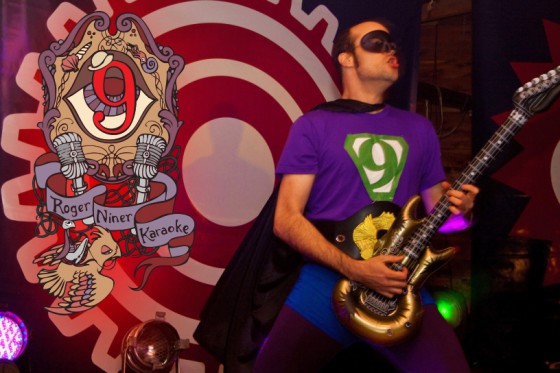 [Editor's note: WOOOOHOOOOO KARAOKE RETURNS TO 24th STREET! We'll be writing more about this historic event later in the week!]
Warm up your pipes. This Friday Roger Niner is back in The Mission… at Pops Bar! And he's bringing his big ole' book of rare and unheard karaoke tunes. Find and sing a new favorite or a long forgotten oddity. Karaoke like you never left the basement of your parents house. Check out the songbook at book.rogerniner.com, and PREPARE!
"I'll open your mind, shake your ass, shuffle your shizzle, cast you off, reel you in, rent out your heart to a loving couple, make tea in your soul, rake your leaves, find you a puppy, melt your brain, solve your puzzles, get you off The Island, take your temperature, sooth your aching nerves, reach your stars, bend your perception of space/time, AND give you back $0.97 in change, all in the name of Rock and/or Roll BAY AREA KARAOKE!" – Roger Niner
Check out this week's full music line up at Pop's Bar:
8/3/15 MONDAY
MOM at POPS
Motown on Mondays
It's only Monday if you treat it like one.
M.O.M
9PM START, 1:30AM end
Hey!
Check out my
M.O.M.
Mondays at Pops
DJ BLUZ, ALARM AND WEEKLY GUESTS
PLAY ORIGINALS, EXCLUSIVE REMIXES
AND CLOSE RELATIVES OF YOUR FAVORITE
MOTOWN SONGS…
8/4/15 TUESDAY
Happy Hour Entertainment 6-9pm with singer songwriter Kevin Conness
TROPICANA TUESDAYS
"Quality Latin BASS"
Every Tuesday at POPS BAR
Time: 9pm – 2am
Tropicana Tuesday with DJ Baysik, playing a mixture of islander & latin grooves all night, from Celia Cruz to Vybz Kartel. Experience the only Tuesday night Latin themed party in the mission.
Salsa I LatinHouse I Latin HipHop I Moombahton I DubCumbia I Merengue I Bachata I Dancehall I LatinReggae I and more…
8/5/15 WEDNESDAY
Happy Hour Entertainment 6-9PM
85 Song Happy Hour
Nick Pal spins short songs because life is short. Hard rock, power pop, punk and pop vinyl.
Whatever Wednesdays
9PM-1:30AM
Whatever Wednesday is YOUR PARTY, literally. You got DJ skills? Have you been itching to show ALL your friends? Its your turn to take over the night and mix it up. Send us your request, your best mix and we'll see what we can do to get you your turn.
Email: tom@popssf.com
No Cover
21 UP
8/6/15 THURSDAY
Happy Hour Entertainment 6-9pm with Alabasters Record Collection. All Vinyl All The Time. Eclectic, Rock & Roll, Punk, Indie, 80s & Whatever.
BFF.FM Night
Rotating DJs from BFF.fm radio! This week: A Shot in the Dark with Dan and Eric. By stopping by for a sip, you're supporting BFF.fm community radio so come down and get drankin drankin.
9PM-1:30am
No Cover!
8/7/15 FRIDAY
Happy Hour Entertainment 6-9pm with Uncle Rifkin:
Uncle Rifkin is a 4 piece, mostly-acoustic, homegrown San Francisco band mixing up styles into a beaker that just might make you dance. Country to Blues. Rock & Folk all with a funky edge and storytelling vibe for your listening pleasure.
ROGER NINER KARAOKE
Go Epic or Go Home!
Check out the song book at book.rogerniner.com
9PM-1:30AM
No Cover
8/8/15 SATURDAY
Happy Hour Entertainment win Sin Nombre 6-9PM
Sin Nombre is a five-piece street band from San Francisco's Mission District dedicated to performing folk music from around the world. Mixing rich vocal harmonies with acoustic instruments including guitar, fiddle, accordion, sousaphone, and cajon, the band's inspirations range from Peruvian chicha to Catalan rumba and Appalachian old time to cumber.
DJ King Most
Hip-Hop & R&B, Electronic & Indie Jams, & Classic Vibes.
9:00pm-1:30am
No Cover
21 UP
8/9/15 SUNDAY
Double Feature Sunday
9pm
Send us your movie & tv series suggestions to watch your favorites on our 5 big screens and broadcast through our state of the art sound system. Email: tom@popssf.com
No Cover
POPS BAR
2800 24th Street @ York
San Francisco, CA 94110
www.popssf.com