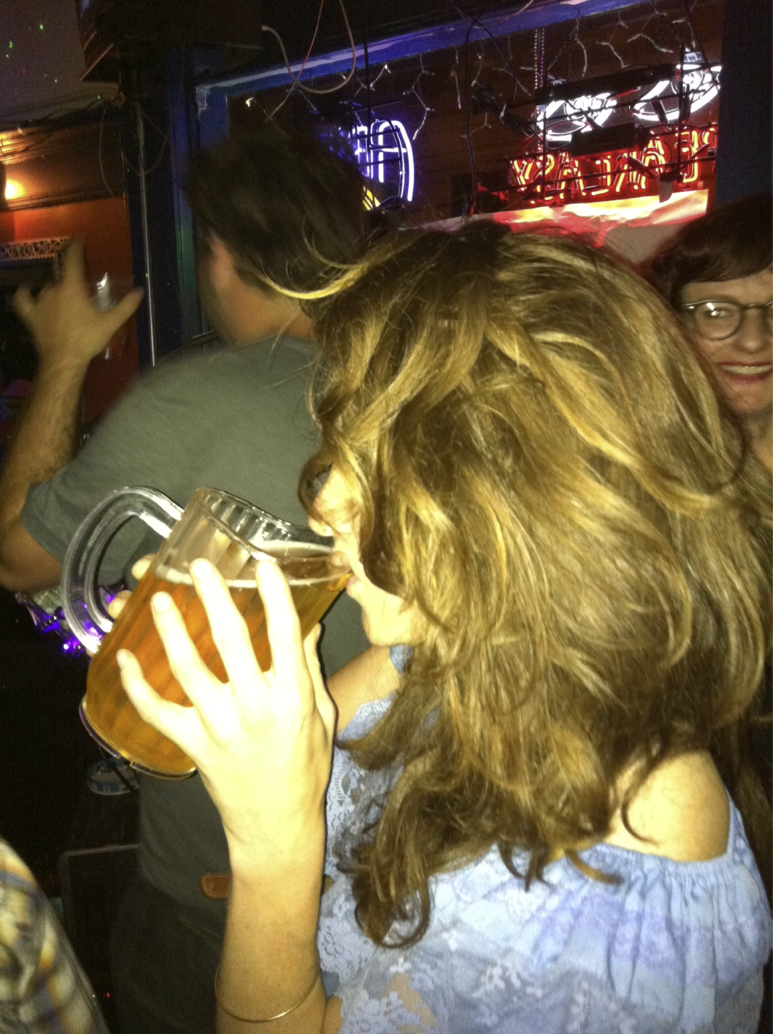 From a Dusted Magazine top-10 list by musician Leyna Noel Tilbor:
This one time at Jack's was the best show any of us had been to in a Very Long Time. Jack's is a neighborhood place, not too on the scene, and you can tell because moms are there, and gangster looking tough guys, and hipsters, and fun people in general. It's two dollar buds so that might have to do with the fact that its is popping off. I've seen broken glass, broken mirrors, and douche bags walking on tables. If it were a house party, the cops'd come. But Thursdays belong to DJ Purple, his incredible Karaoke with a capital K, and his deep purple velvet (velour?) blazer. There is not a proper stage, just an area by the door crammed with screens and fluorescent-fur-covered wireless mics. DJ Purple is damn unfuckwithable; you have to literally run up to catch your song as it's starting because Purple doesn't pause or call roll. He DJs the karaoke songs so they run right into one another. Really embodying the music major grad years later, DJ Purple rocks a saxophone, playing leads on every song and adds pitch-perfect vocal harmonies, unsolicited. This one particular Thursday, I'm rolling in a crowd three-deep — myself, my man Daniel, and his housemate Neale — and we're enjoying the mayhem. Neale only does songs that have key changes (usually ends up with Neil Diamond). Yours truly sang NIN's "Closer" with a perfect stranger/gothy lady who seemed timid about the chorus. A duo of Latin dudes did "California Love" and the WHOLE PLACE IS DANCING, I mean getting down. They're getting in everyone's faces and it looks just like MTV. A tall kid in skinny jeans just channelled Bowie with "Heroes" and it's truly epic. Feeling so ebullient. To intensify the vibe further "Bohemian Rhapsody" comes on, and it's a ridiculous, the tender togetherness in this bar. Swaying and singing loud, as if we were in a pub. Then, the song crescendoes just before the Wayne's World freakout part and a mosh pit erupts. Neale, who is from Baltimore and hell-bent on being "rowdy" grabs me and throws me into the pit. Though in sneakers, I get caught terribly underfoot in the pit, and there's a sudden alien pop in my right foot. Hop out of the pit stunned, alas, the problem in my foot is real and we aim for the ER. I'm mostly super-bummed to leave the dance floor. Hours and X-rays and Vicotins later the three of us consummate the bizarre awesome journey of the night with 5am peanut butter shakes at Sparky's.
Read the rest of the list here.
[via DJ Purple on Twitter] [File photo by Vic Wong maybe?]