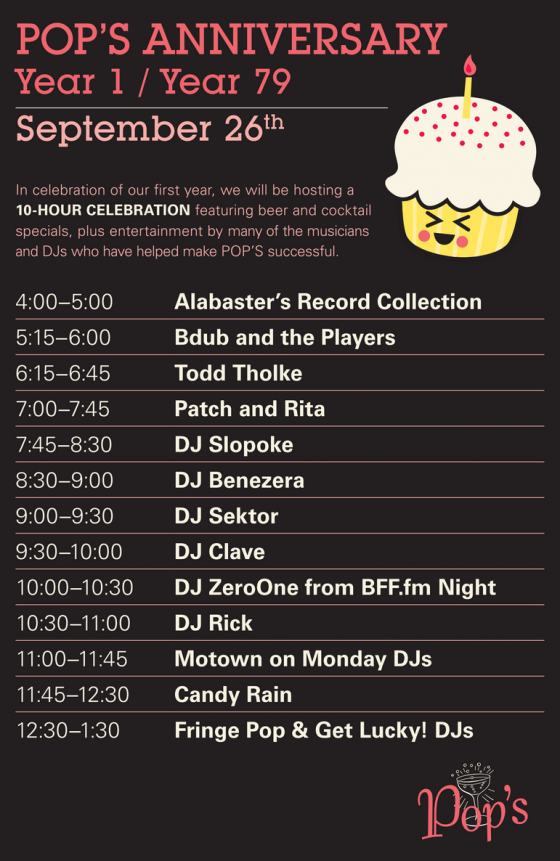 We're gearing up for a big anniversary bash coming up on Saturday, September 26th. While Pops is celebrating it's 79th Year in San Francisco, we're celebrating 1 Year of our Music for the Mission line up. In the next couple of weeks come out and celebrate the best of Pops entertainment leading up to a huge 10 HOUR CELEBRATION on the 26th. It's been a great year for us in the mission and we couldn't do it without you!
SAVE THE DATE & RSVP: https://www.facebook.com/events/304580743067366/
Check out this week's entertainment line up at Pops Bar:
9/14/15 MONDAY
MOM at POPS:
Motown on Mondays
It's only Monday if you treat it like one.
M.O.M
9PM START, 1:30AM end
Hey!
Check out my
M.O.M.
Mondays at Pops
DJ BLUZ, ALARM & GUESTS
PLAYS ORIGINALS, EXCLUSIVE REMIXES
AND CLOSE RELATIVES OF YOUR FAVORITE
MOTOWN SONGS…
9/15/15 TUESDAY
Trivia Tuesdays
Pops Quiz
$2 to play
8:30-10:30PM
Join us every Tuesday of the month and test your wits at Pops trivia night "POP's Quiz" where your brain may get stump on categories such as Pop's culture, Sports, Movies, Music and more, with little snippets of audio and visual effects too! It starts at 7:00pm ends at 10:00pm. So come on in for some good ole fashion competition and a night of drinking with the crew! It is a 2 dollar cover and winner gets the pot!! so tell friends and family because the more peeps the steeper the cash prize is!!
MUSIC THERAPY
Electro-Cumbia Breaks, Hip Hop, Nu Latin Beats
9PM-1:30am
No Cover
21 UP
9/16/15 WEDNESDAY
Spike's Live Piano Karaoke
Every 3rd Wednesday 7-10pm with Karl on the Keys
WHATEVER WEDNESDAY
9PM-1:30AM
Whatever Wednesday is YOUR PARTY, literally. You got DJ skills? Have you been itching to show ALL your friends? Its your turn to take over the night and mix it up. Send us your request, your best mix and we'll see what we can do to get you your turn.
Email: tom@popssf.com
No Cover
21 UP
9/17/15 THURSDAY
Happy Hour Entertainment 6-9pm with DJ Sektor spinning Retro Thursday
BFF.FM Night
9PM-1:30AM
Rotating DJs from local BFF.fm radio! This week: Pops Anniversary Jam!
Come support local community radio.
No Cover
9/18/15 FRIDAY
Cult of Choice
9PM-2AM
A night dedicated to those of us who turn the music up unreasonably loud in our own living rooms just to feel the vibration, who stand feet from the stage attempting to understand how the guitar player gets that sound, who travel to places around the world because of the music that was born there, who connect with music as their own unique form of worship.
We have many a musical cult to choose from, and every 3rd Friday, we do our best to honor them all. From T.Rex to Tinariwen, John Holt to Howlin' Wolf, Baris Manco to Merle Haggard, Ann Peebles to Arthur Russell, Rza to Ranking Dread, Fania to Fela.
Cult of Choice is hosted by a ragtag group of record collectors and music appreciators with the sole intention of sharing music with you. So come listen, dance, and even talk to us! We'd love to tell you all about who you're listening to.
This Week
Record Selections by LP, Lord Cromwell, & casias
Live hiphop performance by Brothers Amor & Karen Less
No Cover
21 UP
9/19/15 SATURDAY
SADDERDAY EMO NIGHT
Join us for the first
SADDERDAY
an emo/pop punk/scremo/electro dance party
DJ Kevin Kannibal and Ashley Suicide
Get ready to relive the days of white belts, myspace, and bangs. Lots of them. We'll have a bathroom photobooth for your next profile pic, a wall for posting emotional updates, and a costume contest for the best scenester. Expect music from all your faves like Alkaline Trio, Thrice, The Faint, Get Up Kids, Boys Night Out, Taking Back Sunday, Moving Units, and many many more!
9:00pm-1:30am
No Cover
21 UP
POPS BAR
2800 24th Street @ York
San Francisco, CA 94110
www.popssf.com