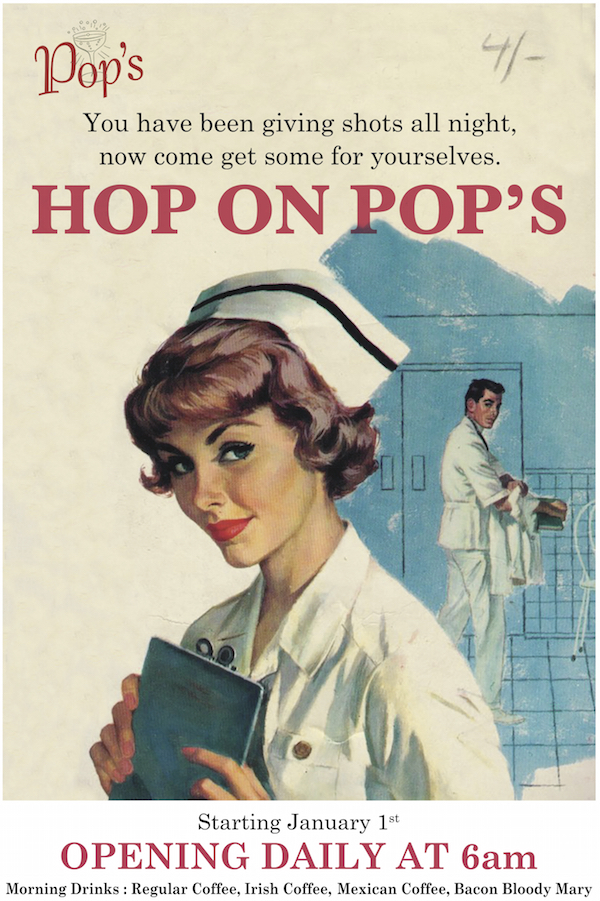 [Editor's note: This news was reported in last week's Pop's post, but Pop's is very excited about it, and we're very excited about it, so we're highlighting it again -- and you should be very excited about it! A new entry in SF's long and storied history of 6am bars! And then of course, after the jump, this week's Pop's entertainment calendar.]
Early mornings? Back to work? No worries, Pops has you covered. Pops is now open at 6am daily! Enjoy a selection of morning drinks such as regular coffee, irish coffee, mexican coffee and bacon bloody marys guaranteed to put a pep in your step whether you are winding down from a night shift or gearing up for the day ahead.
Check out this week's entertainment line up at Pops Bar:
1/4/15 MONDAY
Metal Mondays
Hosted by BFF.fm & Cult of Riffs
9pm-2AM
Keepin' it real and playing all things heavy! If you're false, do not enter! Classic 60′s, 70′s, 80′s deep cuts, black metal, death metal, thrash metal, NWOBHM, proto-metal, psychedelic, heavy blues rock, hardcore punk, d-beat, noise. ANYTHING WITH RIFFS!
No Cover
1/5/15 TUESDAY
Trivia Tuesdays
Pops Quiz
$2 to play
8:30-10:30PM
Join us every Tuesday of the month and test your wits at Pops trivia night "POP's Quiz" where your brain may get stump on categories such as Pop's culture, Sports, Movies, Music and more, with little snippets of audio and visual effects too! So come on in for some good ole fashion competition and a night of drinking with the crew! It is a 2 dollar cover and winner gets the pot!! so tell friends and family because the more peeps the steeper the cash prize is!!
MUSIC THERAPY
Electro-Cumbia Breaks, Hip Hop, Nu Latin Beats
9PM-1:30am
No Cover
21 UP
1/6/15 WEDNESDAY
Happy Hour Entertainment 6-9PM
Eighty-Five Song Happy Hour
Nick Pal spins short songs because life is short. Hard rock, power pop, punk and pop vinyl.
No Cover
21 UP
1/7/15 THURSDAY
Happy Hour Entertainment 6-9pm with Alabasters Record Collection. All Vinyl All The Time. Eclectic, Rock & Roll, Punk, Indie, 80s & Whatever.
BFF.FM Night
9PM-1:30AM
Rotating DJs from local BFF.fm radio! This week: Boardside Dreams twee pop dance party
Come support local community radio.
No Cover
1/8/15 FRIDAY
Music for Ghosts
Happy Hour Entertainment 6-9pm
Lester T. Raww, spinning music from the 1920′s, 30′s, and 40′s.
24 & YORK
Rap Music + Cheap PBR + No Cover + Good Company
9PM-1:30AM
No Cover
1/9/15 SATURDAY
Lonesome Lester
6-9PM
Lonesome Lester plays three kinds of music: his music, old music, and his old music. Armed with a ukulele, occasionally joined by an acquaintance or two, Lester plays Tin Pan Alley favorites as well as his own songs…which sound like Tin Pan Alley favorites.
SADDERDAY EMO NIGHT
SADDERDAY
an emo/pop punk/scremo/electro dance party
DJ Kevin Kannibal and Ashley Suicide
Get ready to relive the days of white belts, myspace, and bangs. Lots of them. We'll have a bathroom photobooth for your next profile pic, a wall for posting emotional updates, and a costume contest for the best scenester. Expect music from all your faves like Alkaline Trio, Thrice, The Faint, Get Up Kids, Boys Night Out, Taking Back Sunday, Moving Units, and many many more!
9:00pm-1:30am
No Cover
21 UP
POPS BAR
2800 24th Street @ York
San Francisco, CA 94110
www.popssf.com