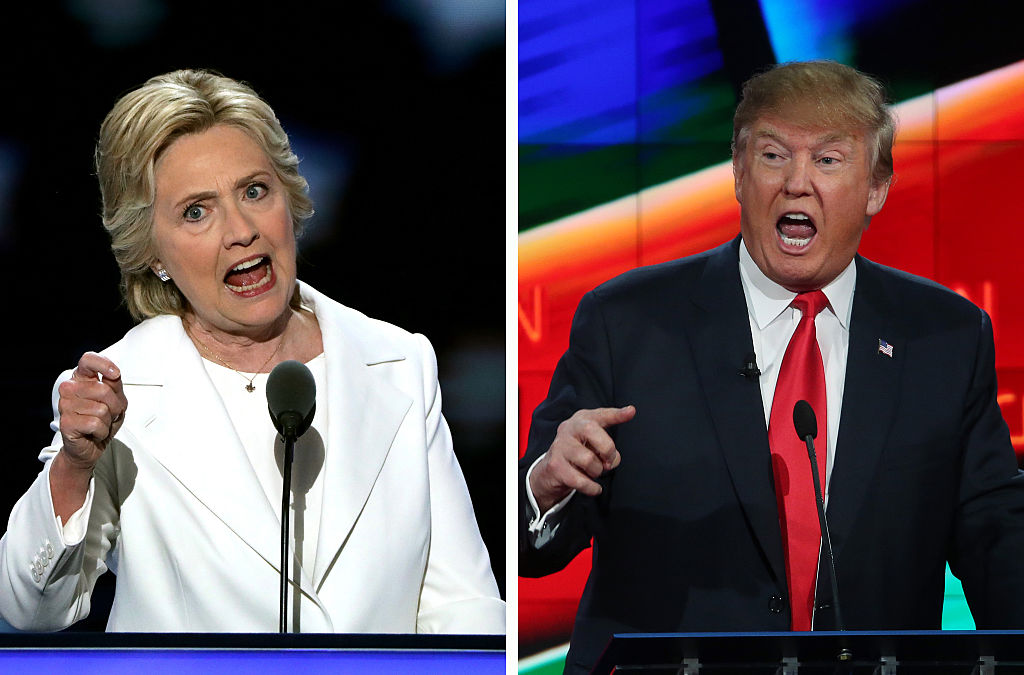 Ok so we're not quite sure if it will be great or a complete train wreck, but either way we have the best seats in the house waiting for you at Pops Bar tonight. From 6-7:30pm, watch the 1st Presidential Debate live and have a drink with us. Something tells us you're gonna need a stiff one!
[Pop's has lots of TVs plus a big projection screen in the back, in case you didn't know... And afterward it's American Tripps, the "Berlin-style" ping pong night, with resident DJs Beauregard & Nutzeffekt this week spinning killer jams dedicated to Hillary and Donald all night! -Editor]
Check out this week's entertainment line up at Pops Bar:
9/26/16 MONDAY
1st Presidential Debate Watch Party & American Tripps: Berlin-Style Ping Pong Night
Born in the back rooms of dive bars in Berlin and perfected in the secret semi-legal art spaces of the Mission, this is a brand of ping pong built for happy hours and late nights.
With DJs Beauregard & Nutzeffekt (and special guests) spinning dancefloor gems and barroom bangers they picked up in Berlin and elsewhere.
Now every Monday at Pop's, 6pm-2am, no cover
9/27/16 TUESDAY
Trivia Tuesdays
Pops Quiz
$2 to play
8:30-10:30PM
Join us every Tuesday of the month and test your wits at Pops trivia night "POP's Quiz" where your brain may get stump on categories such as Pop's culture, Sports, Movies, Music and more, with little snippets of audio and visual effects too! So come on in for some good ole fashion competition and a night of drinking with the crew! It is a 2 dollar cover and winner gets the pot!! so tell friends and family because the more peeps the steeper the cash prize is!!
MUSIC THERAPY
Electro-Cumbia Breaks, Hip Hop, Nu Latin Beats
9PM-1:30am
No Cover
21 UP
9/28/16 WEDNESDAY
Benezra Tergis
Happy Hour Entertainment 6-9PM with Benezra Tergis and friends. Live latin sounds with Benezra playing keyboards with percussion and vocal guests!
9/29/16 THURSDAY
Alabasters Record Collection
Happy Hour Entertainment 6-9pm with Alabasters Record Collection. All Vinyl All The Time. Eclectic, Rock & Roll, Punk, Indie, 80s & Whatever.
BFF.fm Night
Rotating DJs from BFF.fm radio!
This Week:
Today's Active Lifestyles: DJs Dan Baber & Nick Mirov: indie rock discontents past and present
9PM-1:30AM
No Cover
21UP
9/30/16 FRIDAY
Tell River
Happy Hour Entertainment 6-9pm with Tell River
The No Theme Super Dance Jam
with DJ Sonny Phono spinning your favorite dance jams
9pm-2am
No Cover
10/1/16 SATURDAY
CHAMPAGNE CAMPAIGN
with DJs Sake One
A true veteran of the Bay Area hip hop and music scene, DJ Sake One is a born and raised renaissance man, known to doing anything from community projects to opening up for big acts such as Mos Def or Kanye West. Whether it's soulful lounge tracks or bass-filled remixes, his talent and musical palate does not discriminate.
9:00pm-1:30am
No Cover
21 UP
10/2/16 SUNDAY
SPILL THE WINE
CUMBIA * CHICANO ROCK * LATIN SOUL * BOOGALOO
DJs Vinnie Esparza, Guillermo & Slopoke
5PM-10PM
No Cover
21 UP
POPS BAR
2800 24th Street @ York
San Francisco, CA 94110
www.popssf.com