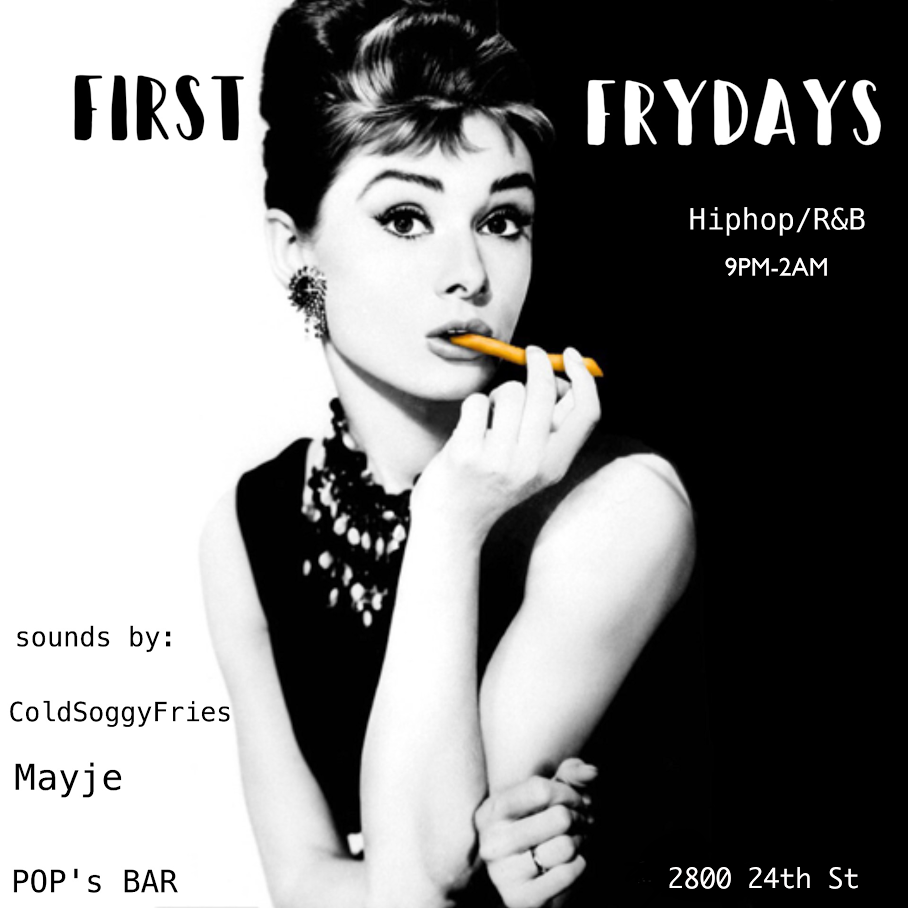 Let's fast forward to the weekend shall we? Pops Bar is happy to introduce a new monthly night to the line up: First Frydays! Local DJs ColdSoggyFries & Mayje bring you the latest and greatest hop hop and R&B in the city. Be sure to hop on Pops this Friday for their residency kick off.
Check out this week's full entertainment line up at Pops Bar:
10/3/16 MONDAY
American Tripps: Thee "Berlin-Style" Ping Pong Night!
Born in the back rooms of dive bars in Berlin and perfected in the secret semi-legal art spaces of the Mission, this is a brand of ping pong built for happy hours and late nights.
With DJs Beauregard & Nutzeffekt (and special guests) spinning dance floor gems and barroom bangers they picked up in Berlin and elsewhere.
Now every Monday at Pop's, 6pm-2am, no cover
10/4/16 TUESDAY
Trivia Tuesdays
Pops Quiz
$2 to play
8:30-10:30PM
Join us every Tuesday of the month and test your wits at Pops trivia night "POP's Quiz" where your brain may get stump on categories such as Pop's culture, Sports, Movies, Music and more, with little snippets of audio and visual effects too! So come on in for some good ole fashion competition and a night of drinking with the crew! It is a 2 dollar cover and winner gets the pot!! so tell friends and family because the more peeps the steeper the cash prize is!!
MUSIC THERAPY
Electro-Cumbia Breaks, Hip Hop, Nu Latin Beats
9PM-1:30am
No Cover
21 UP
10/5/16 WEDNESDAY
Happy Hour Entertainment 6-9PM
85 Song Happy Hour
Nick Pal spins short songs because life is short. Hard rock, power pop, punk and pop vinyl.
Sterling Soul Night
The "STERLING" SOUL NIGHT has moved to Pop's Bar!!!!!
Soul/R&B/Doo Wop/Girl Groups ALL 45s
Now on the first Wednesday of the Month with Matty Holt and special guest Muddbird of Resonate!
9pm-2am
No Cover
10/6/16 THURSDAY
Alabaster's Record Collection
6-9PM Every First Thursday at POPS BAR
All VINYL ALL THE TIME
Eclectic, Rock & Roll, Punk, Indie, 80s & Whatever
Resident DJ Sektor
A mix of music from a range of decades to keep you groovin
10/7/16 FRIDAY
Uncle Rifkin
Happy Hour Entertainment 6-9PM with Uncle Rifkin
Uncle Rifkin is a 4-piece, mostly-acoustic, homegrown San Francisco band, mixing up styles into a beaker that just might make you dance. Their style ranges from stripped down country to blues, rock, & folk, all with a funky edge and a storytelling vibe that gives them their own style, rooted in americana music.
First Frydays
9pm-2am
With sounds by Mayje & Coldsoggyfries
The lastest and most lit Hip-Hop / R&B in the city!
No Cover
21 UP
10/18/16 SATURDAY
Lonesome Lester
6-9PM
Lonesome Lester plays three kinds of music: his music, old music, and his old music. Armed with a ukulele, occasionally joined by an acquaintance or two, Lester plays Tin Pan Alley favorites as well as his own songs…which sound like Tin Pan Alley favorites.
SADDERDAY EMO NIGHT
sing and request emo/pop punk/scremo/electro/hardcore/punk
with DJ Kevin Kannibal and Ashley Suicide
9:00pm-1:30am
No Cover
21 UP
10/9/16 SUNDAY
MUSIC THERAPY
Electro-Cumbia Breaks, Hip Hop, Nu Latin Beats
5PM-10PM
No Cover
21 UP
BOPS AT POPS
Need something funky for your weekend wind down? Every 2nd Sunday, Pablito and friends bring you "BOPS at Pops". Old and new hip-hip, fresh-groove bangers, classic soul hits and everything in between. Stop by for tasty drinks, share your smiles in the complimentary photo booth and shake some damn tail feathers! Whatever your flavor we're sure to keep your head boppin'!
10pm-close
POPS BAR
2800 24th Street @ York
San Francisco, CA 94110
www.popssf.com