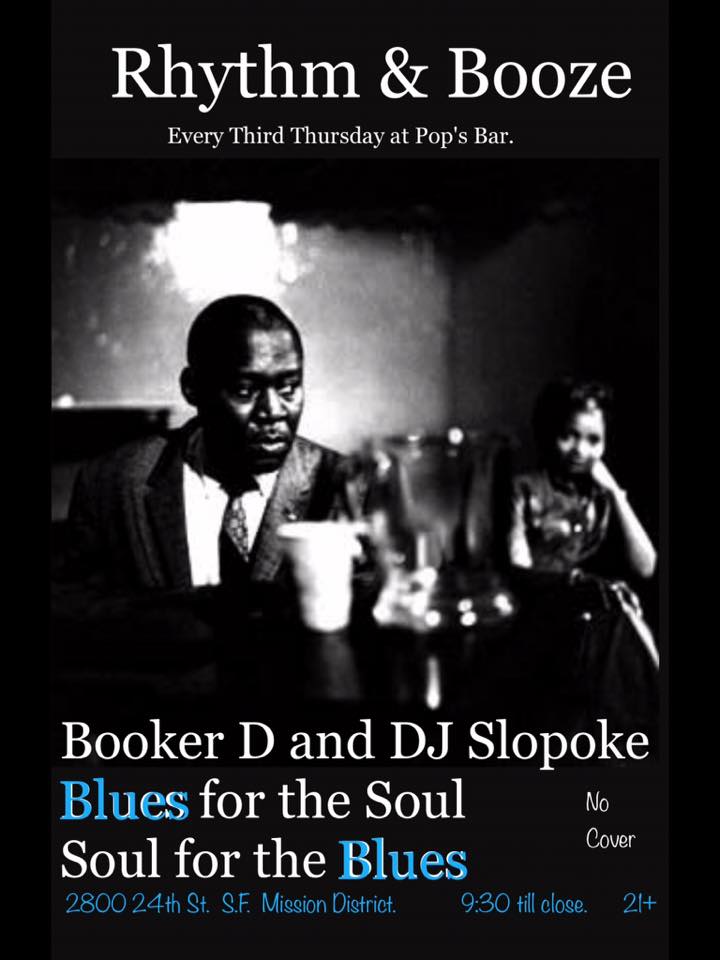 Blues for the Soul and Soul for the Blues. That's what it's all about This Thursday at Pops Bar with our new event RHYTHM & BOOZE. DJs Booker D and Slopoke play the records we love to hear: Blues 45's, deep soul, hard funk and then some. These DJs pride themselves on life long collections of hard to find records. Join us for a night of powerful Soul Sides and Boozey Blues 45's. Make it a double.
Check out this week's full entertainment line up at Pops Bar:
12/12/16 MONDAY
Moto Monday
First Ever Moto Monday: Bikes, Booze, and Babes. Come talk shop and kick the Monday blues with our very own motobike loving bartender, Chelsea.
21+, No cover.
8pm-Close
12/13/16 TUESDAY
Trivia Tuesdays
Pops Quiz
$2 to play
8:30-10:30PM
Join us every Tuesday of the month and test your wits at Pops trivia night "POP's Quiz" where your brain may get stump on categories such as Pop's culture, Sports, Movies, Music and more, with little snippets of audio and visual effects too! So come on in for some good ole fashion competition and a night of drinking with the crew! It is a 2 dollar cover and winner gets the pot!! so tell friends and family because the more peeps the steeper the cash prize is!!
MUSIC THERAPY
Electro-Cumbia Breaks, Hip Hop, Nu Latin Beats
9PM-1:30am
No Cover
21 UP
12/14/16 WEDNESDAY
Rude Awakenings
6pm-9pm
Rude Awakenings: Forgotten underground classics of the 60′s, 70′s and '80′s, with DJs Cathy 2-Tone and Scooter Stalin
12/15/16 THURSDAY
DJ Sektor
Happy Hour Entertainment 6-9pm with DJ Sektor spinning Retro Thursday.
RHYTHM & BOOZE
9:30PM-1:30AM
Soul for the Blues, and Blues for the Soul.
ft. DJ's
Booker D
Slopoke
A night of powerful Soul Sides and Boozey Blues 45′s!
No Cover
12/16/16 FRIDAY
Roger Niner Karaoke
9PM-1:30am
"Roger Niner is back in The Mission… at Pops! And he's bringing his big ole' book of rare and unheard karaoke tunes! Find and sing a new favorite or a long forgotten oddity! Karaoke like you never left the basement of your parents house! We go until they tell us to shut the hell up! Check out the songbook at book.rogerniner.com, and PREPARE!"
Web: www.rogerniner.com,
Facebook: Roger Niner Karaoke
Twitter: @rogerniner
Instagram: @rogerniner
12/17/16 SATURDAY
The Rec Department
Nothing But Slap All Night
feat. The Rec Dept & Special Guests
9pm-2am
No Cover
12/18/16 SUNDAY
MUSIC THERAPY
Electro-Cumbia Breaks, Hip Hop, Nu Latin Beats
5PM-10PM
No Cover
21 UP
POPS BAR
2800 24th Street @ York
San Francisco, CA 94110
www.popssf.com