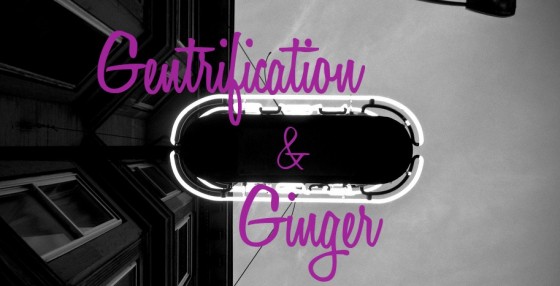 I got an idea for a new musical about the rapidly changing neighborhood that surrounds us.
A couple in their late twenties move to San Francisco's Mission District from Iowa. Stacy and Sam had been running Stacy's family's restaurant, but when they read an article in the New York Times (online) about Valencia Street's fabulous new foodie explosion they decide to risk is all to start a new life out West. They get an apartment in a little alley off of Dolores Park (Dorland), purchase a struggling appliance store on Valencia Street and 21st with the help of a loan from Stacy's parents. Here they set about to create their dream of bringing more artisan cocktails and delicate nibbles to the hot, young Bay Area entrepreneurs in a storefront setting with the comfort of small town Iowa.
Then I guess some kind of conflict would have to enter in, like they realize that a homeless person that they're trying to get arrested for sleeping on their doorstep is actually a long lost uncle? Maybe then the narrative can shift off of them for the second act and onto the homeless uncle, as Sam and Stacy realize that they're not the center of the universe. We dive backwards into the history of the uncle, Steven, and how he came here from Iowa in the eighties, a Vietnam vet looking to start a new chapter in his life, lived on Haight Street, abandoned by the government that sent him off to war, got burned by a girl and/or best friend and watched his life collapse.
Maybe we end with some hint at the fact that the cycles continue endlessly, some kind of twist either in the future or further in the past.
Anyone else getting some good song ideas? I am.
UPDATE: In the comments, "Whataperv" makes a great addition to the story (did I mention Do The Right Thing is one of my favorite movies?). Now let's get some songs written.
. . . a Latina couple (two women) the same age as Sam and Stacy apply for essentially the same thing – they want to open a healthy taqueria to provide affordable, nutritious food to those who cannot afford a $13 hamburger. Born in the Mission, they scrimp and save working several jobs trying to realize their dreams. Despite having a good business plan and start up capital, they have trouble getting loans because of their lack of credit history (as juxtaposed to Sam and Stacy, who have no problem relying on their family and their good credit to get the money they need). Stymied by their lack of financial privilege, the two decide to start with a street cart, which they dutifully push up and down Mission street every day and night, trying to raise the cash, while also trying to provide relatively healthy soft tacos to the neighborhood. Act three ends when two angry Google employees with Stanford MBAs stumble drunkenly out of Sam and Stacy's establishment and into the food cart, one of them burning themselves on the grill in the scuffle. This leads the drunken, white men to tell the two women to "Go back to their own countries." The very end of the act shows Stacy and Sam down at City Hall trying to get "disruptive" food carts banned from the sidewalks in front of their business because they're driving away paying customers and creating issues.

In Act 4, we see that the homeless veteran witnessed the whole exchange. For whatever reason (maybe because a new non-profit has opened down the street and he's started receiving help from an NYU educated, Brooklyn born African American man), he decides to try to turn his life around and begins organizing a coalition of homeless and working class individuals to respond to the rampant gentrification of his neighborhood. The play climaxes when a protest in front of Sam and Stacy's store is met with violence from a contingent of drunk partiers from Walnut Creek. The police are called and, as they're about to arrest the lesbian Latinas, the homeless guy and everyone else assembled, Sam and Stacy emerge from their under-siege business and set the record straight – resulting in the arrest of the Walnut Creek partiers. This act of reconciliation paves the way for a partnership between Sam and Stacy and the latinas in a new restaurant on Valencia, newfound respect for the homeless man, who goes on to run for the Board of Supervisors, etc. etc.

Basically "Crash II: Mission Stories."