Happy Friday, all y'all! Please do consider adopting one of these animals!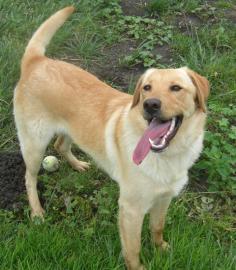 Finn — 10-month-old male Yellow Lab
I think they named me Finn cause I like to swim? Wait, but I also like to hike…and walk…and run….and chase those things you call tennis balls. Point is, I like to a lot of things, and the more outdoorsy and social it is, the more I love it!
It's summertime out there, and that means you're spending time at the park, at the sidewalk café, and just enjoying all the things the Bay Area has to offer – I would love to share those with you!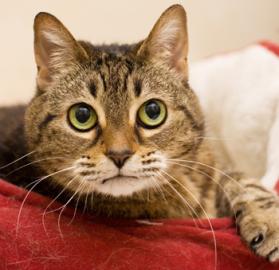 Loretta — 5-year-old tabby
This full figured gal is as sweet as they come. Loretta can be a bit shy at first but give her some time and she'll be ready to climb into your lap! Loretta is generally low-key so quieter homes would probably make her happiest. If you're looking for a relaxed, sun-bathing type of cat that wants to lounge next to you while you read a book then visit Loretta! Seriously, how can you resist that face?? And remember – July means name your adoption fee for us adult cats! I mean, I'm worth a zillion bucks, but we can make arrangements
All pets adopted from SFSPCA have received a pre-adoption veterinary exam and behavior assessment, vaccinations, spay/neuter surgery and a microchip.
Where: The San Francisco SPCA's Maddie's Adoption Center
Address: 250 Florida Street (at 16th – Street)
Hours: Open Tues – Friday 1 p.m. to 7 p.m., and Saturday/Sunday 10 a.m. to 6 p.m. (Closed Mondays and major holidays.
Contact: 415-522-3500, www.sfspca.org
Follow SFSPCA at facebook.com/sfspca and twitter.com/sfspca.