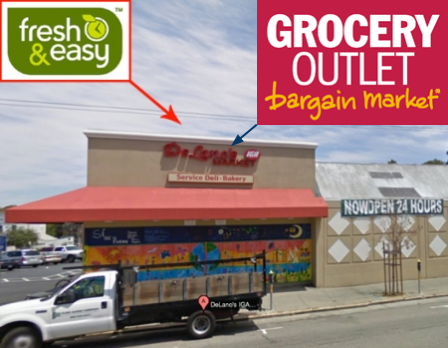 It was reported a couple weeks ago that the old Delano's space was close to becoming a Fresh & Easy. Now it appears there's a new possibility. Reader Lisa C. explains:
Heard from Supervisor Campos' office last week that there are bids in
from two places to lease the building that was Delano's: a place
called FRESH AND EASY and then one called Grocery Outlet.
They both seem kinda weird but the latter seems less desireable from
what I've heard.  Apparently the contact person in the Mayor's Office
is Lisa Pagan, in the office of workforce / economic development or
something like that.
I wonder when the public hearing is?
Yes, I wonder.
[Original image by Curbed SF]
Previously: