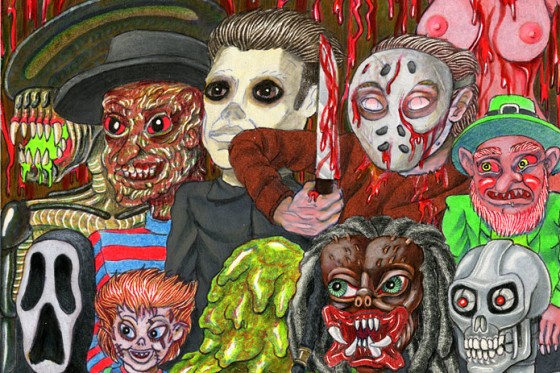 Looks rad! Curator Angela tells us all about it:
"Monster Show" is a big group show that pays tribute to classic monsters, ghouls, villains and horror movie characters, as well as sci-fi and cult films, and urban legends. It's also a perfect kickoff to Halloween!
[...]
Artist and guests are invited to dress up for the occasion. We're going to have horror movies screening all night, 2 radical DJs playing videogame/horror movie inspired music, plus a ton of surprises from the P1 crew.
PROJECT ONE GALLERY
251 Rhode Island Street (between 15th & 16th)
San Francisco, CA. 94103
[link]
Is that Matthew Dear between Freddy and Jason, btw?
[image via Fecal Face]