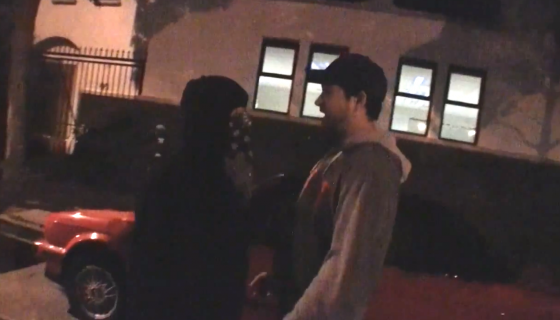 The other day I got thoroughly bummed out by, and then posted about, some video footage of the May 1st "Valencia Street" riot. It put me in a bad mood, and my takeaway was basically, "Wow, look at how fearlessly they attack this cop car — this is scary." The first seven minutes of unchecked carnage were enough to blind me to the one ray of hope in the footage (which begins around the 7:25 mark). And my mood got worse as the comments flooded in. Until this one:
I was still living in San Francisco during the Giants non-sense and watched a woman drive through the mob and get her car jumped on which seemed to completely render the trunk usable as well I'm sure plenty of damage I didn't witness. In retrospect, I wish I'd been the guy in the video who ran up shouting "Hey! hey! hey!" Instead I pulled out my iPhone and took a picture which I'm pretty ashamed of. At least the story the video tells, lots of spectators doing nothing, and one guy running up to defend the neighborhood. If you're looking for something to take from this video, be that guy who runs up in front of the window being smashed or the car about to be spray painted. And when they start swearing at you, don't introduce violence because that changes the game, but just say you love your neighborhood and this isn't what you want. [link]
So there are two silver linings here. 1.) This one citizen standing up to the mob means there's still good in the world, and 2.) This one commenter bringing some positivity to the discussion means there's still good in the Mission Mission comments section.
Happy Friday, everybody. Love your neighborhood!