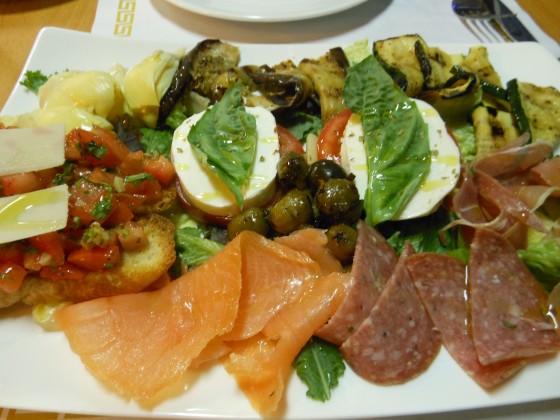 Josh and I checked out this new Italian place within Mission Market last night. The whole experience was eerie, starting with the overeager bystander/good Samaritan ushering us forcefully around the corner onto 22nd toward the entrance. We walked down the tiled hallway into an expansive dining room (35 tables or so) that was completely empty. La Grotta is not really cavelike (it's officelike) but it is cavernous. Another patron walked in with us and tentatively sat down at one of the bar tables, but he bailed, which is no easy task in a restaurant with audible pin drops. Josh and I soldiered on.
No booze yet, so we tried the water. We started with the Mesa Platter because it's damn impressive looking. Unfortunately the meats were tres lunch-meat and the vegetables tasted like vegetables. The bruschetta was very good, well-toasted and nicely garlicky.
Josh had the eggplant lasagna and I had the spaghetti and meatballs. The water line in my bowl was around 67% of capacity. The sauce tasted good, nice and basily, and the pasta was cooked reasonably well. The meatballs were bland and the consistency of matzo balls. Josh found the eggplant bitter and the lasagna ok, but who can trust him, he's just getting over a cold.
I take no delight in disparaging an unpretentious Italian restaurant in the neighborhood; if it were even pretty good I would eat here every day. Cheap Italian is rarely mastered. Josh's suggestion was that they offer $2 drafts from 6-9, which I agree might be the ticket to Bean-Bag-sized success.
On the upside, nothing was gross, the service was good and the place was clean. And most of all, I was so full that I could hardly get through my beer half an hour later, which actually sucked because everyone else at the Attic was wasted.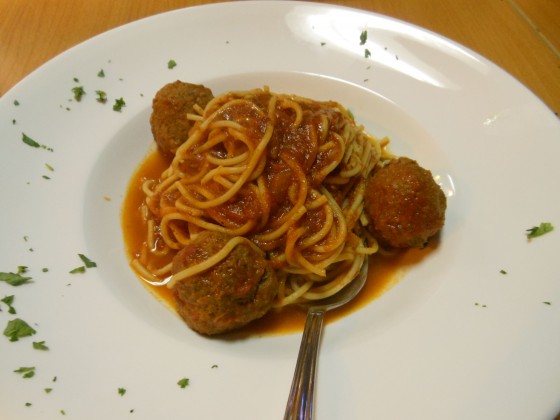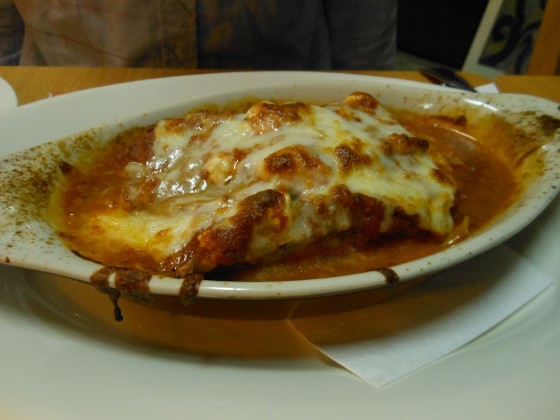 Oh and they had this really good hipster boxing show on the T.V., so that was a plus.