In regards to our previous reporting on claims of a violent sexual assault on 19th and Capp Streets last weekend, the San Francisco Police Department have released a statement addressing possible similarities to another reported incident, as well as follow through. Here is the full statement:
Community Crime Prevention Advisory.

SFPD has identified the victim of a possible sexual assault which was first reported in a local news journal. The assault, which allegedly occurred in the early morning of hours of Monday, June 18, 2012, near 19th Street and Capp Street, was never reported to the Police Department. An investigation into the incident was initiated after Inspectors from the Special Victims Unit interviewed the author of the "Mission Local" article.

Investigators looking into the June 18th incident have discovered some similarities between the previously unreported incident, and a separate attempted sexual assault case, which was reported to police on June 15th and occurred just five blocks away. On June 15, 2012 on Erie Alley near 13th Street, a woman was approached from behind by two men who grabbed her from behind and attempted to sexually assault her.

In both incidents, the women were assaulted by two men, one short, possibly 5'-04" and the other taller, about 5'-10". The men were described as being a Hispanic and an African American, or two Hispanic males.

Additional investigative personnel have been assigned to determine if there is any actual connection between these two incidents and Mission Police Station has increased patrols in the area.

The San Francisco Police Department is requesting that anyone having information on either of these incidents contact the SFPD by calling: the Anonymous Tip Line at (415) 575-4444 or Text a Tip via your mobile phone to TIP411 and type SFPD followed by your message. To report a life threatening emergency or crime in progress, call 911.
Also, via Uptown Almanac, here is a tip sheet that officers have handed out.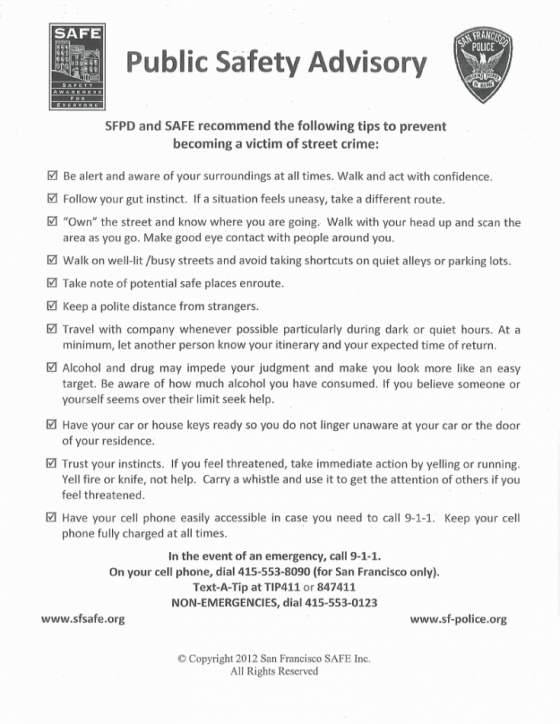 In addition, Maria tells us that San Francisco Women Against Rape is running a drop in & billingual Spanish/English free Self Defense Workshop at The Women's Building this Thursday from 5-8 PM. If you have questions, SFWAR can be reached at (415) 861-2024.
We appreciate the commenters who have participated in the discussion by sharing personal stories, offering advice, gathering information and seeking to help the victim and survivors in general find healing, as well as to prevent future attacks.
No matter what the details are surrounding this particular incident, the fact remains that these kinds of crimes do happen. Without resorting to a response that could do more harm, such as racial profiling or excessive fear and paranoia, we hope that people will continue to look out for themselves and each other. As we see in the discussions that have arisen, an attack like the one detailed in our previous post can have an affect on all of us. It should not be minimized. It should not be acceptable. We hope for closure and healing for any victim, and hope to move forward together as a stronger community.
Additional reporting at The SF Appeal, Mission Local and SFist.