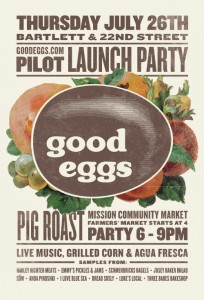 Good Eggs is this new thing where you can do your farmer's market shopping online. You'd think maybe it would negate the need for an IRL farmer's market like the Mission Community Market, but actually it looks like they're working in tandem, which is great. (Some people seem to think it's always real life vs. the internet, but I say why can't we enjoy both, am I right or what?)
Anyway, to celebrate their launch, they're roasting up a pig this evening! RSVP and invite your friends!
And if you want to know more about Good Eggs, Mission Local has a big feature up right here.
[via Funcheap SF] [Thanks, Kate S.!]