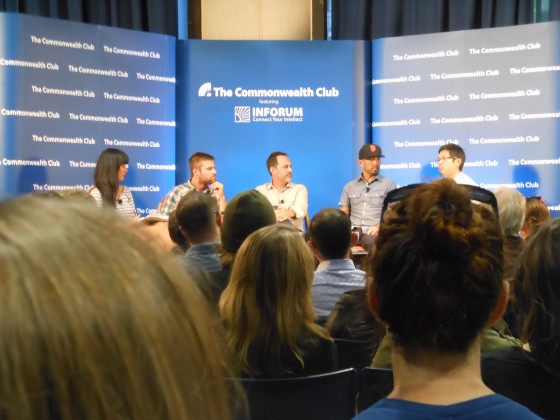 Last night, as part of the INFORUM series at the Commonwealth Club, chefs from Delfina, Hapa Ramen, Mission Street Food,  Wild Kitchen, and Rice Paper Scissors gathered to discuss the San Francisco restaurant industry and their paths in it so far. Craig Stoll, now a restaurant magnate by San Francisco standards, talked about maxing out credit cards to open Delfina "back when Dolores Park was still pretty scary." He recommends that aspiring restauranteurs try a Kickstarter instead.
Other highlights included MSF's Anthony Myint reminding Stoll that he had once interviewed to be a cook at Delfina (which presumably didn't work out) and Wild Kitchen's Iso Rabins remembering knocking on the back doors of restaurants with boxes of wild mushrooms for sale ("The only people who were really mean to me were the people at Farina.")
The most substantive part of the conversation was a debate over the value of formal experience when launching a restaurant or pop-up. Both sides made smart points, but Myint had the winning comment: "I think of it like The A Team. They were pros before they were renegades, so they knew their stuff."
You can find out more about the INFORUM series here.