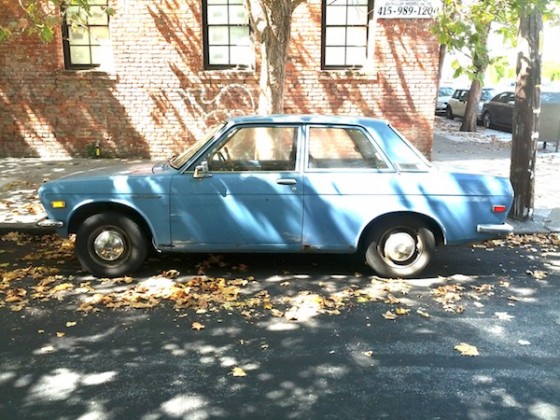 Whenever I see a cool car around the neighborhood, I take pictures and send them to my pal Eric up in Portland who runs Other People's Things, my favorite car blog. He responds with some knowledge and we post the results here and it's called "Car Beat." Here's what Eric has to say about this little Datsun:
This is an easy one but certainly a classic. It's a Datsun 510 Coupe (1968-73, this is probably '70-73). The 510 is legendary for a few reasons- It made Datsun officially popular in the US, much like its direct competition, the 1600, did for BMW.
The 510 was also much cheaper than its competitors. It was considered the cheap alternative (some say copy) of the BMW, but the styling is quite different, and what the 510 lacks in prestige and beauty it makes up for in performance. These old Datsuns are like legos, and you can swap all sorts of Datsun/Nissan motors and transmissions into them, which is advised for this one since that little badge on the trunk reveals it's stuck with the Borg-Warner automatic transmission.
Sucks the life right out of it, but I can respect that it has been kept in original condition.
Thanks, Eric!