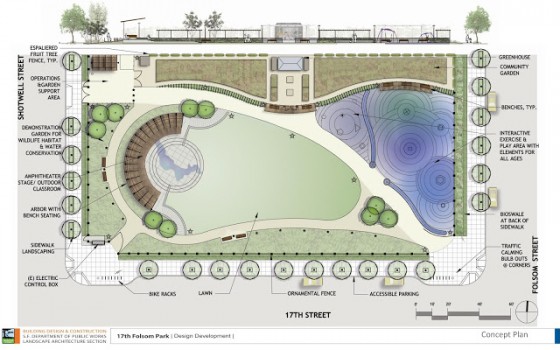 Residents have been questioning the design that DPW has proposed for the new park set to blossom at 17th and Folsom since the first draft was revealed, and although many of their concerns have been addressed in subsequent revisions, one of those qualms continues to stand out. Quite literally, actually, in the form of an 8-foot fence surrounding the park:
The original concept design was even more inwardly focused, though it did address access to the future affordable housing to the north. Most egregiously, it set the 8-foot-high fence right at the park's edge, making the 10-foot-wide sidewalk feel even more constrained…

The inflexible, over programmed design remained inwardly focused and lacked any integration with the urban fabric and immediate neighborhood community, which features many arts organizations. By most measures of good urban design, it was still a very unsuccessful design…

A low fence, such as the one at the nearby Mission Playground, can provide safety for small children without such a defensive and negative feeling.
[Link]
So, do you agree that DPW is totally completely it when it comes to building this park?  And just how high does a park fence have to be in order to keep all the good stuff inside while not looking like a prison from the outside?
Previously: