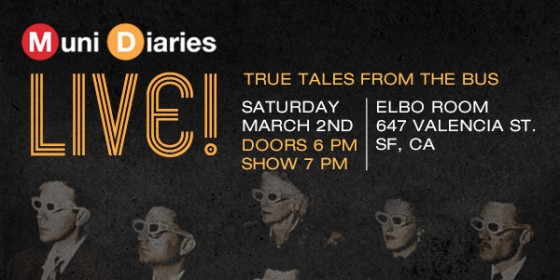 Our transit-obsessed buddies at Muni Diaries are bringing a bunch of cool people up on stage to entertain you with tales of life on Muni.
Eugenia elaborates:
Everybody has a Muni story: nail-clipping, whiskey-sharing, mythical-creature-spotting, and it just gets weirder all the time! Come hear true transit stories from riders, writers, and even a BART operator. Bonus: this show will also feature the second Muni Haiku Battle as our Lit Crawl champion defends his crown!

Storytellers:
Johnny Funcheap, master of frugal living
James Nestor, writer and reigning Muni Haiku champion
Anna Pulley, sex/relationship columnist and Muni haiku ninja
Kelly Beardsley, BART operator
Richie Nakano, chef at Hapa Ramen
Lucky Jesus unplugged!

Muni Haiku Battle is inspired by Dirty Haiku Battle, presented by our favorite Oakland show,Tourettes Without Regrets (first Thursday of every month at the Oakland Metro). You should definitely check it out every month. Like, seriously.

Details:
Muni Diaries Live
Saturday, March 2 at the Elbo Room
647 Valencia Street, San Francisco
Doors: 6 p.m. Show: 7 p.m. Tickets: $12
Take Muni there: J-Church, 12, 14, 22, 33, 49, or BART: 16th or 24th St. stations
Get your tickets here before they sell out!