Adobe Books is almost all settled in their new cozy location at 24th Street, and they want to invite you over to check out their new home!
Come to our first ever event in our new location! Our Marketplace event is this Saturday May 18th. Join us as we invite local artists and merchants to sell out of the brand new Adobe books. Browse the wares of your talented Bay Area comrades like Ryan De La Hoz and Amos Goldbaum, and enjoy music by DJs Melissa Funk, Tylawave & Andy Pabstalaniec, as well as food & drinks by Rainbow Grocery and Speakeasy Ales and Lagers. All bar proceeds and 10% of sales from the marketplace will be donated to help open the new Adobe Books.
See the whole list of participants after the jump, and check out the FB event page here.
A few of our fabulous participants:
Cool Try, clothing & accessories by artist Ryan De La Hoz
Shirts by Amos
The Bold Italic, products by SF locals- along with postcards, posters and other Bold Italic exclusives
Most Ancient, limited edition books, experimental comics, and art in print form
SCRAP, scrounger's center for reusable art parts
Jewelry by Sea Pony Couture
Super Classy Publishing, small editions of handmade books
Jewelry by While Odin Sleeps
Yam Books, Oakland–based independent small-press publisher of art books, comics, graphic novels, and zines
Tiny Splendor, publishing collective representing over 30 artists from around the Bay Area and Los Angeles, zines, artist books & prints
& many more!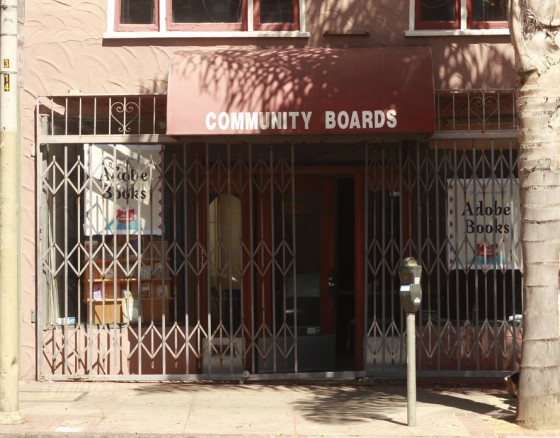 [Photo by Tiffany Sainz]